As one of Europe's most vibrant and beautiful cities, Barcelona is home to a plethora of opportunities to explore new places, try new things, and indulge in new cuisines. You could spend weeks here exploring this amazing urban destination and never run out of culture, architecture, nightlife or rich history to encaptivate yourself with. But if you're searching for a taste of what Catalonia has to offer beyond the limits of the city, Barcelona is also the perfect location to escape from the metropolis and immerse yourself into the Catalan life. Whether you're craving to travel to the mountains for a vigorous rock climbing session or wish to soak in a bronzed tan on the beach, you can find many convenient Barcelona day and weekend trips for all kinds of travelers and tastes. Although the list is endless for the many gorgeous destinations to travel to, we've saved you the trouble from having to do decide which ones are the best by giving you the Top 5 Day Trips From Barcelona.
Girona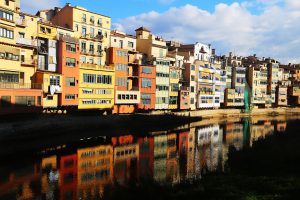 From beautiful medieval walls to the grand Girona cathedral, there is no doubt to Girona being the heart of the rich Catalonian history. As one of the most oldest and preserved Jewish Quarters in the world, Girona is home to a maze of narrow, winding cobblestoned lanes that makes for a stunning photo opportunity at every corner. Transport yourself to the ancient times by taking a stroll along the medieval walls where you will be dazzled with spectacular views of the whole city. If your appetite wishes to trade the traditional tapas for a more elegant Catalonian meal, treat yourself at one of the World's 50 Best Restaurants at El Celler de Can Roca, a famous hotspot with three Michelin stars. For you Game of Throne lovers, you'll also be thrilled to learn that many of the scenes were filmed here in Girona!
Tarragona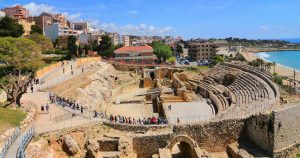 Just an hour south of Barcelona, you'll find sunshine, sandy beaches, and the ancient Roman ruins of Tarragona. This beautiful coastal town takes you on a journey through time through its well-preserved Roman amphitheater and its labyrinth of alleyways dating back to the second century. Asides from its spectacular historical value, Tarragona is also home to the most outstanding seafood meals where you can find the freshest dishes in the village El Serrallo. For you non-seafood lovers, you can also find where the delicious calçotada (grilled spring onions) was born or explore other unique cuisines at the many gastronomic festivals Tarragona has to offer!
Montserrat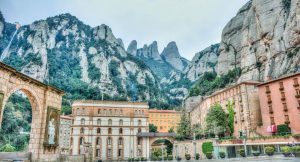 If you identify yourself as being one with nature, this incredible Catalonian spot is for you! Translating as "saw mountain" in Catalan, Montserrat lives up to its unique name through its jagged rock formations that you can't find anywhere else in Spain!. Once you hike or rock climb to the top of this incredible, rocky mountain range, you can explore Catalunya's holiest site, the beautiful Benedictine monastery of Montserrat sitting right at the base of this 800 meter-high peak. If you find yourself too eager to get to the top and marvel the views, skip the hike and take an easy cable car right up to the top of the mountain! In addition to the captivating views you'll find at the top, if you're lucky enough, you might be able to even catch a choir boy performance that takes place at the monastery at 1pm every day!
Sitges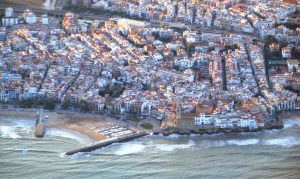 Stretching out along the Mediterranean Sea, you'll find the bohemian and welcoming town of Sitges. This beautiful beach destination is home to numerous popular carnivals and festivals, including the International Fantastic Film Festival. Although the town's manicured and white-washed might feel too polished, don't be fooled, here the parties last all night or even till the next afternoon! Along with being host to many exquisite restaurants and ravishing beaches, Sitges is also popular for being the center for the LGBTQ community in Spain with visitors traveling in from all around the world. The inclusive and respectful culture towards all individuals is what drives Sitges to be recognized as a welcoming home for everybody!
Figueres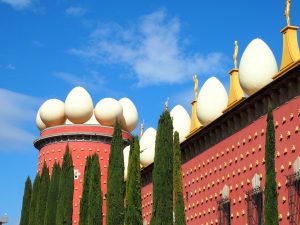 For those art lovers who crave to explore Catalonia beyond the beaches, plan to travel to Figueres for your next trip! Famous for being home to the Salvador Dalí Theatre-Museum, this popular tourist attraction is devoted to the work of this Surrealist genius. Representing the quirky style of Dalí, the museum is surrounded by tall red walls with giant eggs perched on top where you'll find his greatest masterpiece paintings and a gorgeous collection of jewelry designed by Dalí inside. Your museum fix doesn't have to end right there though, because Figueres is also home to many other museums, including the kid-friendly Museu del Joguet de Catalunya (toy museum), the Museu de la Tecnica de l'Emporda (technology museum) and the Emporda Museum (cultural museum).
Even though it might be tempting to limit yourself to the beautiful metropolis of Barcelona, we promise you that Catalonia is so rich in natural beauty, vibrant culture, and incredible cuisine that it would be a shame to restrain yourself to only a small part of it. So during your next weekend off, take advantage of the city's prime location and take a trip to one of our Top 5 Day Trips from Barcelona! Pack your climbing shoes, tan lotion, or even your Game of Thrones gear, and get ready to hit the road!