Figueres is one of the most popular destinations outside of Barcelona thanks to it being the birth place and, partly the canvas, of the great surrealism artist Salvador Dalí. Furthermore, it is very easy to take a day trip to Figueres from Barcelona!
Some transportation options include regional train, high speed train, or bus. The regional train takes a little under 2 hours and costs 11-15 euros. You can leave from Sants station or Passeig de Gracia station. You can also take the high speed train from Sants station to Figueres Vilifant which will take around 50 minutes and costs about 35 euros.
There are several things to do in Figueres, but the main attractions are the Salvador Dali museums. The Dali Theatre Museum and the Dali Jewels Museum are the second most visited museums in Spain and entering them is a surreal experience. You can easily get to the Salvador Dali museums from the train station by bus or by walking.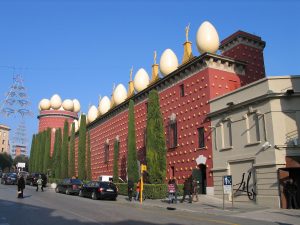 The Dali Theatre Museum was designed by Salvador Dali himself and is a popular day trip from Barcelona. This museum has the most extensive collection of Dali's work, perfect for every art lover. This truly is a sensory experience that will leave you breathless. Admire Salvador Dali's growth by seeing his work from childhood through becoming a surrealist. Next you can marvel at the jewels that were designed by Dali at the Dali Jewels museum. This museum features jewels, gold, and precious stones as well as drawings and paintings by Dali. you can visit both of these museums for a combined price of 15 euros. You can add onto this Dali experience with a stop at Casa Natal de Salvador Dali. This is the building where Dali grew up, and even though it is not an attraction, it is interesting for Dali fans to appreciate.
There are also kid friendly options for your day trip to Figueres from Barcelona! Visit the Museu del Joguet de Catalunya for an exciting toy display that your kids will love. The first floor is a space where kids can draw and make art. If you are lucky there may be some exciting temporary exhibits as well! The next floor has ancient games so you can witness what children from the past used to have. Lastly on the top floor you can be entertained by a railway built by Andreu Costa Pedro. This toy museum is a place for both you and your kids to enjoy!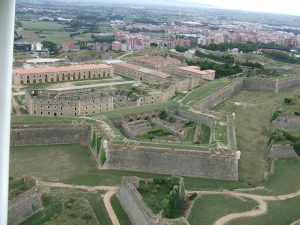 The Castell de Sant Ferran is one of the largest fortresses in Europe and also happens to be in Figueres! You won't regret stopping here on your day trip from Barcelona. You are given the choice of several different kinds of tours with your visit. You can explore the interior independently with the help of signs or you can choose to do a guided tour if your group has at least 35 people. If you would rather tour the exterior and the underground areas you can book a tour that will guide you around the castle in vehicles and take you on boats in the underground section of the castle.
Before your trip back to Barcelona you can enjoy a meal or stay the night at the Duran Hotel and Restaurant. This was a frequent hangout spot for Salvador Dali himself, which is evident from the pictures of him with various celebrities and several of his drawings hanging around.
As you already know, if you are passionate about nature, art and unexpected trips then you cannot miss out on a fantastic day trip to Figueres from Barcelona!