Bodegas dot Barcelona's labyrinthine side streets like herbs in a chorizo sausage. But, like spices, a few taste amazing, too many can be overwhelming, and some are rather overpriced. Fortunately, the international tour company, Culinary Backstreets, has a city walk specifically tailored to guide intrepid tourists off the beaten track to some of the oldest and quaintest wine bars in Barcelona.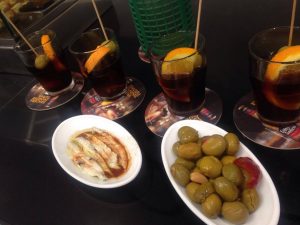 Bodegas are deeply embedded in Spain's traditions and history, and this particular tour begins in one of the most multicultural districts in central Barcelona, El Raval. Less popular with visitors than the overcrowded Gothic and Barceloneta neighbourhoods, Raval has somehow remained largely ungentrified and less orientated towards the city's booming tourist industry. Culinary Backstreets appreciate the importance of showing tourists the 'real' Barcelona, unspoiled by cheap imitations and poor mockeries of the gastronomy that have been revered by Spaniards for generations.
As you stroll leisurely between the many eateries en route, you will learn a great deal about this ancient and burgeoning metropolis that is far more than just a party hotspot. Erudite guides such as Paula Mourenza will impart some of their impressive knowledge of the Catalan Capital, including the fascinating history of its many markets and a vivid description of how the city expanded to engulf the surrounding towns.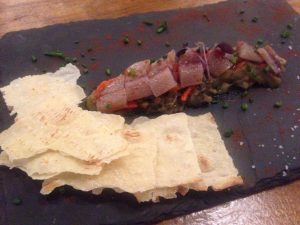 Of course, the focus of the tour is on the cuisine and the carefully selected venues do not fail to impress. Sample traditional Catalan tapas dishes and swirl wine with the locals as you immerse yourself in Iberian culture. Try a delightfully simple bacalao escaixada of cured cod with accompanying crusty tomato bread, washed down with another regional favourite, cava. Alternatively, munch your way through a platter of fresh whole razor clams; crunchy on the outside but soft in the middle iberian ham croquettes; and golden-brown empanadas, filled with succulent shredded pork. Many of the recipes you will delight in tasting are unique to this particular region of Spain, and have been perfected over many years of improvisation and innovation.
Not only will Culinary Backstreets introduce unusual local delicacies but, true to its name, will also lead you away from the ceaseless bustle of La Rambla, into the quiet residential streets of the vibrant El Raval neighbourhood. Step foot into one of its many bodegas; a place rarely patronised by tourists. Its selection of beverages ranging from its crisp white Grenache, bottled locally and bursting with character, to its fruity and spiced vermouth, are simply unmissable. Whilst vermouth is better known as a key ingredient of the classic martini cocktail, this aperitif has long been drunk neat by Barcelona residents and is making a comeback with the trendy and young of the city.
As you bodega-crawl your way round El Raval, the multifaceted nature of this cosmopolitan area will become increasingly apparent. The wine bars themselves are reflective of this, as each one has a distinct character and flavour. One might be well-lit with modern furnishings and avant garde food presentation; another reminiscent of a wine cellar with huge barrels lining the walls and antique tables to sit round. A whole new area of the city will be revealed to you, a neighbourhood with its own array of charms and sights to help you fall in love with Barcelona all over again.