You don't have to be Bradley Wiggins to rent a bike from Cuesta Cycling but it does help to have a keen interest in road bikes. This is not a rental shop for a casual pedal round Barcelona's old town. Instead, owner Jorrit Reitsma prides himself on supplying only the highest quality road bikes for enthusiasts and aficionados, offering rentals and guided tours – both in Barcelona and in the surrounding area. If you are training for an event, need a serious leg workout or want to explore Catalonia from the saddle, Cuesta Cycling is the shop for you.
Cuesta Cycling's fleet of bicycles are bought from Italian cycling icon Bianchi and renewed every year to ensure only state of the art equipment is available for you to take for a spin. Choose between high end endurance bikes, such as the Bianchi Infinito CV, perfect for the city streets as well as alpine descents, and cheaper but no less comfortable examples of Italian engineering like the Bianchi Intenso marathon bike. Prices vary according to the model you choose but are generally around the €50 mark for a whole day – an absolute steal considering their retail value and the costly alternative of bringing your own from home.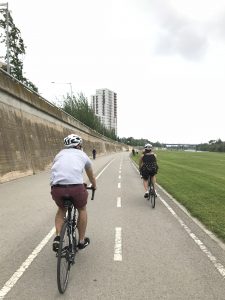 Not only can you rent the bike of course but you also get the added charm and help of an experienced local to guide you. Cuesta Cycling provide various recommended routes, including encircling the mystical mountain Montserrat, an exploration of the beautiful area around nearby Girona, and a steep tour of the Collserola mountains which lie behind Barcelona city. A professional cycling guide allows you to concentrate on your own progress and enjoy the stunning Mediterranean scenes around you, rather than worrying about the route and where you're heading to next. They will also tailor your day specifically to your preferences, according to your ability, what you want to see and more technical things such as the number of height of climbs.  
Other perks provided by Cuesta Cycling include a rental bike delivery service to drop off your ride at your hotel or apartment, anywhere in Catalonia. There is also the option to be transported away from the city to begin your cycling route closer to your chosen area. What's more, all rental bikes are equipped with two bottle cages, a saddle bag with puncture kit and pump or CO2 cartridges, and the option for GPS devices, helmets, cycling shoes and clipless pedals.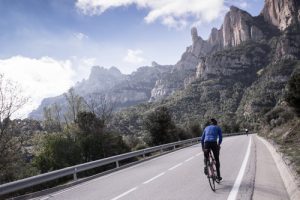 Cuesta Cycling is a unique one-stop shop in Barcelona for all your road bike needs. The products they offer are of the highest quality and they are flexible and willing to accommodate your individual preferences. See north east Spain in the most enjoyable way possible, from the saddle of a high tech Italian-made road bike.