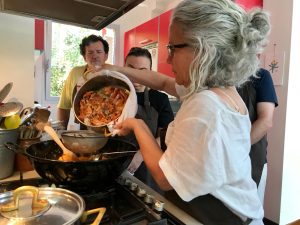 Why settle for just tasting Mediterranean fare when you can learn to cook Spanish cuisine in Barcelona for yourself with a talented local cook? Receive the complete Iberian experience during your trip to the Catalan capital with one of Cooking Languages' fantastic cookery workshops.Not only will Sol, the godmother of Spanish cuisine and your friendly instructor for the day, transform you from a cooking novice to chef, she will also simultaneously instruct you in her native language. Who says the Spanish can't be productive? And more to the point, who says you can't learn to cook Spanish cuisine in Barcelona for yourself?!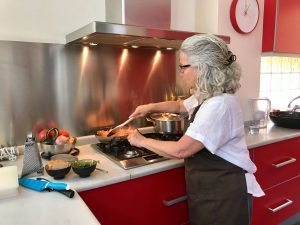 The class takes place in Sol's beautiful house, located a short 20 minute train ride away from the bustling centre of Barcelona, in the town of La Floresta. Spectacular views of the forested Collserola foothills await you from her spacious terrace, and the sublime surroundings themselves are reason enough to book Sol's course. That, combined with a glass of cava (Spain's answer to Champagne), make it all too easy to slip into an al fresco siesta… Fortunately, Sol is on hand to revive you and kick things off back in the kitchen.
Sol's menu changes regularly, depending on the season, availability of ingredients and personal preferences of the group. A typical three-course summer menu may start with gazpacho, a traditional Andalusian tomato-based soup, served cold – perfect for cooling you down on a hot summer's day. Continuing with another time-tested recipe, the main could be a tempting, "Suquet de Peix" fish stew. This is a dish that has evolved from a revitalising sailors' broth, consumed by intrepid explorers for centuries, into a top-end restaurant favourite. A simple combination of fresh fruits, handpicked at the local allotments, is the perfect conclusion to your healthy, wholesome, Catalan meal (at which point you're welcome to take that siesta!).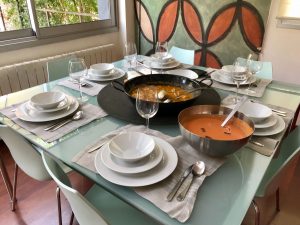 Sol's charisma, energy and charm certainly make this experience more than just about cooking and languages. Her hospitality and willingness to go above and beyond is inspirational, and indicative of her years of experience working in education, cooking and organising events. She tailors her classes to your cooking and Spanish speaking abilities to ensure that each lesson is both fruitful and of course, enjoyable. By the time you leave you will feel like one of the family, armed with useful conversational phrases and a detailed recipe to amaze your friends back home as well as a good story of your attempt to learn to cook Spanish cuisine in Barcelona!