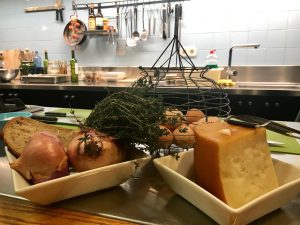 Gastronomy is central to Catalan culture, therefore rather than simply sampling local dishes in the city's restaurants during your trip, why not take a cooking class in Barcelona and learn how to prepare the recipes yourself? Cook & Taste offer a hands on and dynamic culinary experience, teaching you not only how to cook some of Barcelona's most beloved dishes but also how to shop for them. From selecting your ingredients at the iconic La Boqueria market to cooking up a storm in the kitchen, Cook & Taste provides a unique and unforgettable cooking class in Barcelona during your trip to the Catalan capital.
Nestled away in the quaint Gothic neighbourhood lies Cook & Taste's impressive kitchen – home to fantastic food, superb cookery instruction, copious amounts of wine and not to mention, much laughter. After meeting your chef-cum-guide for the day, the group will head off to the nearby market to purchase key ingredients for the five-course meal preparation ahead of you. The market's rainbow of vibrant colours and diverse blend of aromas is truly spectacular and certainly worlds away from the supermarket shop you're used to! Despite heading there early to try and beat the crowds, La Boqueria never ceases to be busy, however fortunately your Cook & Taste guide will expertly weave you through the hustle and bustle. From amusing anecdotes about the sellers to the fascinating history of the market and produce sold, the tour is certainly extensive and leaves you with plenty of food for thought!
Once back at the kitchen (fully stocked with every cooking utensil imaginable), hands are washed, wine is poured, and the cookery class begins. Following an introduction to the menu and ingredients, your chef will delegate roles depending on your preference in order to avoid total chaos in the kitchen! Whether you prefer to chop, stir or adopt the role of the sommelier, there's always something to be done. However, fear not as you will have a selection of pan con tomate and both Iberian and Serrano ham to re-energise you throughout the cooking process and whet your appetite for lunch.
Your knowledgeable and entertaining chef will devise a menu that is both seasonal and achievable for a group made up of cooking novices and experts alike. Whilst the menu changes from time to time, it always combines classical Catalan flavours with international influences to please palettes from all over the world. An exemplary menu includes a warming thyme soup served with a poached egg and delicate idiazabal cheese crisps, followed by coca bread topped with warm roasted vegetables and soft, crumbly goats cheese – simply delicious! If space permits, the main consists of a seafood paella, blending magnificent flavours from the sea with fresh seafood that'll leave your tastebuds singing with joy.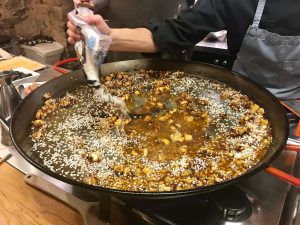 All those with a sweet tooth will be pleased to know that the meal finishes with a dessert, despite puddings being somewhat uncommon in traditional Catalan fare. Dessert ranges from a crema catalana to pears infused with vanilla, cinnamon and lemon served with none other than a generous portion of whipped cream – the perfect winter warmer!
Not only does Cook & Taste's cooking class in Barcelona and market tour teach you the fundamental basics of Spanish cooking but also provides the chance to meet and mingle with fellow foodies from all around the world. What better souvenir to take home with you than the taste of Spain and new friends?