In Barcelona you don't need to spend much too get a great cocktail. There are plenty of bars here that offer premium cocktails at a discounted price in Barcelona! Sip on a mojito or order a 13 liter drink to share with friends, each bar has its own unique qualities. Here are our top 6 cheap cocktail bars in Barcelona!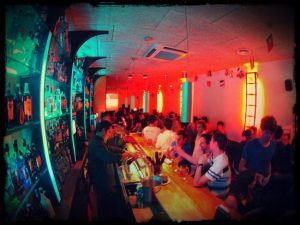 Cheap is an understatement at Summum Nightbar with shots for 1 euro, mojitos for 5 euro and beers for 3 euro. If you think that you cannot get good quality cocktails for cheap then think again because Summum offers good quality cocktails while providing the best atmosphere for a night out.
Carrer d'Aribau, 66, 08011 Barcelona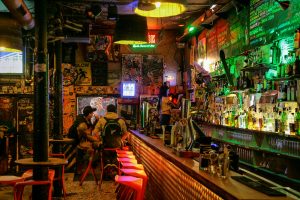 If you are looking for a cheap bar with a grunge and rock and roll vibe in Barcelona, then Nevermind is the perfect bar for you! This bar has never ending rock music, a skate ramp and a generous happy hour. Come with friends from 7-10 to get half priced drinks and enjoy the laid back atmosphere. They even have free popcorn and amazing cheeseburgers, perfect for a midnight snack. The Raval location even puts on free concerts and DJ sessions!
Carrer dels Tallers, 68, 08001 Barcelona
Carrer d'Escudellers Blancs, 3, 08002 Barcelona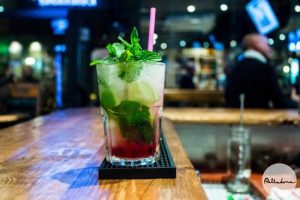 Belladona is a gay friendly bar in Eixample with delicious mojitos and a bright and sunny terrace. They have an extensive drink menu to ensure there is something everyone can enjoy, but they are most known for their cheap mojitos. The mojitos are 3.5 euros or 8 if you want a liter with an option to upgrade your drink with a better quality alcohol for an extra euro.
 Carrer de la Diputació, 222, 08011 Barcelona
Pippermint is the perfect location for a big group of friends. The bar is decorated with various football jerseys creating a fun and casual vibe. It has become a hotspot for younger people to drink and pàrty. Their drinks come in 4 sizes, all of them large. Here you can get a 6 or 13 liter drink to share amongst friends.
Carrer de Bori i Fontestà, 20, 08021 Barcelona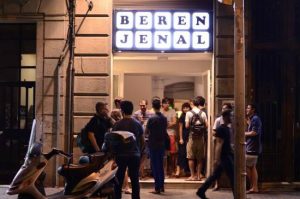 This is a retro bar with fun music, it has the perfect setup for a large or small group! Aside from the atmosphere, the best part about Berenjenal is the mojitos. They have different flavored mojitos every night from coconut to ginger, but that's not all. They are only €2.50! You can't get it any better than this!
Carrer de la Diputació, 215, 08011 Barcelona
Lastly, there is the amazing Cyrano Bar in Barcelona. It is a very popular place amongst Erasmus students, and it is also a great place to meet some new people! The Cyrano bar is so popular in Barcelona because of its' unique concept. When you order your drink here, the bartender will give you an empty glass and a bottle of your choice so you can pour your own drink. You can make it as strong as you like, and afterwards the bartender will give you a bottle of soda so you can mix your drink to your own taste. The prices in this bar are really cheap as well! For all cocktails you will only pay €5. Compared to the prices you will pay in nightclubs, this is an absolute bargain!
Aribau 154, 08036 Barcelona