Bodega's are important social hubs in Spanish society, providing intimate spaces where people of all ages can come together to enjoy tapas and drinks. Casa Mariol is one of the most popular bodegas in Barcelona, thanks to its well-established branding, outstanding vermouth and delectable cuisine. It is also just a stone's throw away from the iconic Sagrada Família, making it the ideal venue for an inexpensive bite to eat and a cold drink during a day of sightseeing.
Like all traditional bodegas, a variety of barrels line the walls for patrons to sample different vintages and to fill up their bottles. Whilst the range of reds and whites present a tempting offer, Casa Mariol is best known for its white and black vermouths. Vermouth is a fortified spiced wine, typically drunk neat as an appetizer in Spain, served with an olive and a slice of orange. The two variations are either the sweet white vermouth or the richer, dryer black alternative. Both are aromatic and refreshing and have been making a comeback in recent years with Barcelona's youth, for reasons that will become apparent as soon as you try your first sip.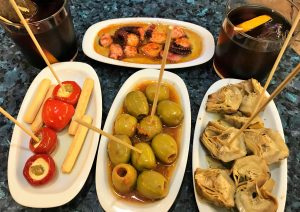 Casa Mariol's menu is surprisingly extensive for a small wine bar, including a wealth of authentic Spanish fare. Much of the cuisine will impress seafood lovers who may choose between dishes of mussels, cockles, scallops and octopus – to name just a few. Other quintessential favourites such as pan con tomate, local cheese platters and Iberian jamón are also recommended for their quality and ubiquitous popularity. One of the best plates on offer is their artichokes in vinegar, a great accompaniment with either peppers stuffed with goat's cheese or Casa Mariol's version of flatbread pizza.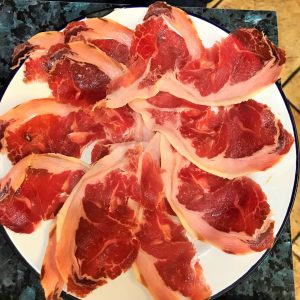 Another appeal of Casa Mariol that adds to the overall genuine Iberian experience is the fact you will be drinking and eating alongside predominantly Catalan clientele. A friendly, personal connection exists between the staff members and the regulars and the chatter of friends and acquaintances creates an energetic, lively ambience. Don't be surprised to see the owner greeting people with the standard kiss on each cheek and bidding them enthusiastic farewells.
Choose Casa Mariol for a break from tourist activities and for an immersion into a genuine and quality local eatery. Sample a range of snacks and tapas plates, either for a quick lunch or dinner, and make sure to order at least one type of vermouth before you leave. Every visitor to the Catalan capital should experience a real bodega, and Casa Mariol tops the list as one of the best.