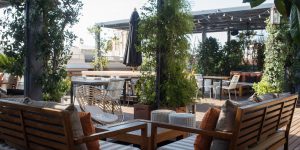 With 300 days of sunshine per year, a visit to a rooftop terrace in Barcelona is an absolute must, especially during its scorching summers. Where better to bask in the sun than Hotel Pulitzer's fabulous terrace, with a refreshing cocktail in hand from their Aperol Spritz bar. Situated in the heart of the city, only a stone's throw away from the bustling Plaça Catalunya, Hotel Pulitzer's rooftop terrace in Barcelona is the perfect spot for some R&R, after a day of traipsing around the city sightseeing. Their urban garden provides temporary escapism from the hordes of tourists, and some much-needed shade from the Catalan capital's soaring temperatures.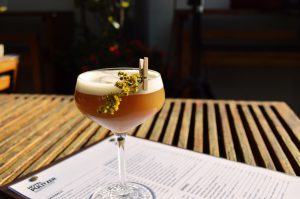 Its modest prices, relaxed vibe and cool beats certainly makes Hotel Pulitzer's rooftop terrace in Barcelona a hotspot amongst the city's younger crowds. Kick back and relax, mingle with friends, and delight in this green oasis every evening, from 18.00 to 24.00, until the end of September. However, fear not, there is still plenty of time to enjoy the fantastic lineup of events taking place in the next few months as part of the 'Buenas Tardes Pulitzer' season. From live music to DJ sessions, you can view their exciting programme on their website here.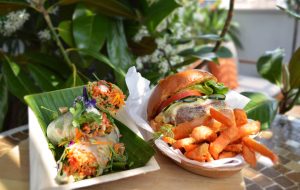 If pop, electronic and funk is more your jam, come along to one of the many gigs being held on the rooftop this summer, starting between 20.00 and 21.00. Hotel Pulitzer will be welcoming artists from both the independent and international scene, including Alien Tango and Deco Pilot – some of the best alternative rock we've heard for a long time. Alternatively, if club tunes are more your thing, Hotel Pulitzer will be hosting renowned club DJs every Thursday and Friday from 19.00 to 22.00, to get you in the mood for the weekend. You can expect performances from AWWZ, Bearoid, Playless and Raver Jewish, to name just a few! Whilst entry for all Hotel Pulitzer's events are completely free, we recommend arriving early as there is limited space up on this exquisite rooftop terrace in Barcelona.
All the foodies out there will be glad to hear that Hotel Pulitzer has also launched a fresh new menu for the upcoming summer months. Whether you're looking to sample traditional Catalan fare – jamón, homemade "croquetas", patatas bravas – or a hearty, gourmet burger for a taste of home, Hotel Pulitzer has got it all.