At 8.30 in the morning in Barcelona, the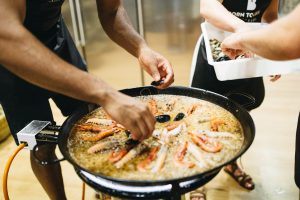 city of siestas and late night sangrias generally appoints a quiet, calm atmosphere to the district of El Born. However, if you weave your way through the sleepy streets to number 9 Carrer Miralles, you will notice there are a few locals awake and hard at work, cooking up a storm at Barcelona Cooking School, Born to Cook.
Last Thursday morning I took part in Born to Cook's signature tour, the Market Tour and Cooking Class. From the moment I walked in, my sleepy senses were rapidly awakened as I was welcomed by the warmth of the kitchen and the heartening smell of roasting onions. I was introduced to the charming, smiley Oriol, who was to be my guide.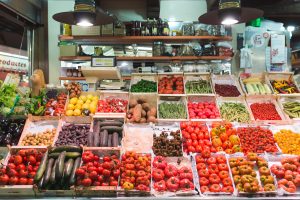 The first challenge of the day was to pick up our fresh ingredients from the Santa Caterina market. My previous experience of food markets in Barcelona was limited to La Boqueria on Las Ramblas, which although impressive, is frustratingly mobbed with tourists. It was therefore an absolute delight to wander around the authentically Catalan Santa Caterina. The building is topped with a funky art-deco roof, and filled to the brim with colourful fruits, fresh fish, and old ladies with their shopping trollies. Most market stalls are family owned, and I found something oddly heart-warming in watching father and son working side by side, hacking away at frozen fish guts.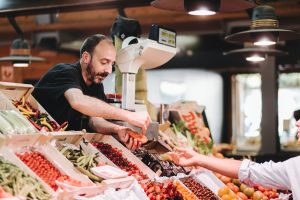 Oriol toured us round the different market stalls, stopping first at la carnisseria. He explained the difference in curing jamón ibérico, chorizo and jamón serrano right down to the very last acorn the pig was fed. Oriol then took us through the mountain of Spanish cheeses, teaching us everything we needed to know from Spain's most commercialised cheese, manchego, to the lesser known, traditional Catalan urgèlia. Honestly, I found it a little hard to concentrate on the ham and cheese history, primarily because I was busy praying that the temping platter of cheese, jamón and chorizo behind the counter was for us. Sure enough, I was not disappointed.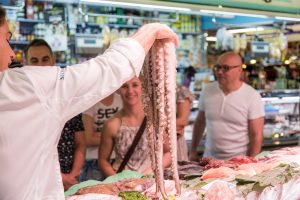 We also explored la pescadería, where we bought fresh mussels, cuttlefish and squid for the paella, but fortunately were spared a tasting session. Then, la frutería, where we sampled five different types of tomatoes; large, small, deep red, honey yellow and all deliciously sweet. We ended at les conserves stall, where Oriol treated us to a further taster of spicy olives. Born to Cook's market tour was a unique, charming and genuine experience. There is something deeply satisfying about knowing exactly where your ingredients are coming from, and saying adios to Lidl's frozen prawns. You get to witness the intricacies of a true Catalan community, and watch the chatter and babble of daily life as well as learn the backstory of Barcelona's most traditional cuisine.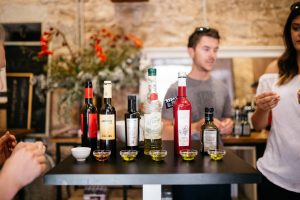 Back at base, our tasting trials were not over yet. Before cooking our five course feast, we took part in an olive oil tasting. Laid on the table were six different bottles, four oils and two vinegars. After Oriol explained to us the difference between the oils – some award winning, some spicy, some herbal, we were free to dunk cubes of fluffy white bread into the bowls, and judge them for ourselves. What a treat.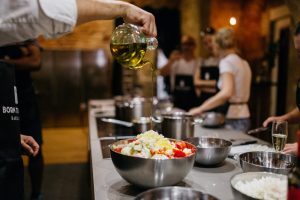 With a glass of cava in hand, (and an unlimited supply in a nearby fridge) the cooking then began. We started with an onion carpaccio, patatas bravas with spicy sauce and a fresh tomato gazpacho. Chopping, peeling, dicing, slicing, mixing, whisking…the full monty. Oriol taught us all the trucos (tricks) of a true Spanish chef along the way, such as how cutting onions sideways releases more flavour. I know I'm not exactly Nigella, but have I really been cutting onions wrong for 22 years?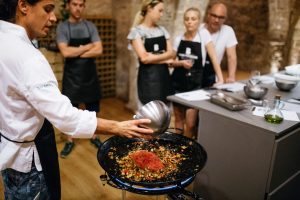 The star of the show was of course, the seafood paella, which bubbled contentedly at the end of our long table, requiring each of us to stir it throughout the lesson. Oriol taught us the traditional way to produce the masterpiece, which it turns out (Jamie Oliver eat your heart out) does not traditionally include chorizo, nor is it actually yellow! Finally, we whisked up our Crema Catalana, plated our onion carpaccio in Michelin star style, and sat down to enjoy our feast.
The class providing us with independence and a chance to express our culinary flair, whilst simultaneously keeping us under the careful, calm supervision of Oriol. Furthermore, the intimate group size gave room for everyone to play their part and develop a friendship with our patient, wholehearted mentor.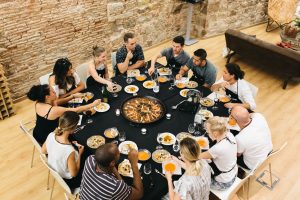 If you are thinking of splashing out on a swanky meal in Barcelona, stop your tracks and cook for yourself instead. Born to Cook's Market Tour and Cooking Class achieves the perfect balance of cuisine professionalism and home kitchen authenticity. You won't find such fresh ingredients, delicious food or genuine smiles anywhere else in Barcelona.
Useful Information Born to Cook:
Prices and Times:
Market Tour & Cooking Class 86,00€ (5h hours)
Market Tour 25,00€ (1h30)
Cooking Class 72,00€ (3h)
Included:
Tour guided by a professional Chef
Taste of all the products in the market
Hands-on cooking lessons
All the ingredients
Lunch or dinner with Cava, Red and White Wines, Soft Drinks, Water and Coffee
Group Size: min. 2 max. 12
Languages: English, Spanish, Catalan and French (for French check availability before)
Hours: Monday to Friday – 11am to 4h30pm
Saturday and Sunday – Special hours
Contact:
Address:
 Carrer dels Mirallers, 9
Number: +34 932809713
Email: Toní at info@borntocookbarcelona.com