Location, location, location. It's all about location with Boo. This Mediterranean restaurant boasts unsurpassed views of the Barcelona seafront, taking full advantage of its remarkable position on the Bac de Roda breakwater. By day and by night, the eatery gives its diners the unique experience of being on a boat, without ever leaving the safety of dry land.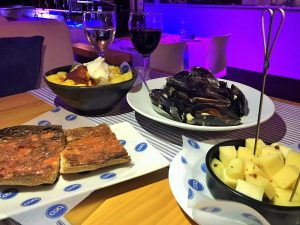 Boo first opened during the summer of 2011, founded by Santi Millan, Mer Canet, Carlos Ortet, Valentina Daniel Giraudo and Queen. Their mission was to establish a meeting point for tourists and locals alike to experience dining, culture and leisure simultaneously. As such, the unusual boat-shaped building jutting out to sea was considered the perfect place for such an experiment.
The main landmarks of Barcelona's southern coastline, such as the W Hotel, the cable car tower and Vila Olimpica's enormous metal fish sculpture, can all be clearly seen through the western side of Boo's restaurant. Large windows along three of Boo's walls offer viewing delight for its diners and give the building a light and open feel. Looking south, you may see ships and yachts sailing silently past on the calm Mediterranean waters. Meanwhile, immediately to the east of the restaurant is the Nova Mar Bella beach and beyond that in the distance, the old factory chimneys that mark Badalona rise up above the city's apartment blocks. Overall, it creates a fantastic setting in which to enjoy your meal and watch the world go by.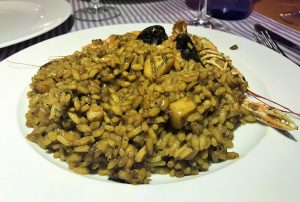 Catalonia has a long and venerated seafaring tradition which has had considerable influence over the region's gastronomic traditions. Boo celebrates this history by serving a menu inspired by seafood. As such, five different types of paella are available to try, including variations with baby octopus and razor shell clams; with sea urchins; with Norwegian lobster and clams; and with seasonal vegetables. In the tapas section, Spanish seafood favourites dominate, such as Andalusian style calamari, grilled queen scallops with oil caviar and Marinera style mussels.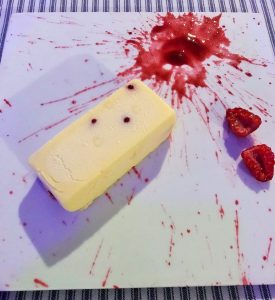 For those who appreciate views of the sea but not necessarily the cuisine derived from it, Boo's kitchen also cater for meat-lovers and vegetarians. Their main dishes range from lean Iberian pork fillet to grilled lamb ribs and of course, the ubiquitous beef burger. The tapas selection also covers the quintessential favourites: patatas bravas, pan con tomate and manchego cheese.
Overall Boo is a special dining spot that takes inspiration from the sea which surrounds it on three sides and spectacular views await those who choose to dine here.