Pork reigns supreme in the Iberian peninsula, with chorizo, jamón and morcilla appearing on virtually every restaurant's menu. Visitors to Spain may therefore feel a nostalgic craving for the quintessential American meal: the burger. If you are struck with the homesick bug, the best place to revive yourself would undoubtedly be Big Al's American Kitchen in Sitges. This all-American restaurant prides itself on unabashedly American decor, service, and of course, cuisine.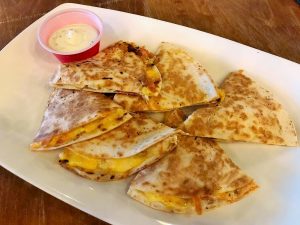 Big Al's American Kitchen does not accept reservations – although you can get your name on their list by turning up in person. This is strongly recommended as the restaurant's popularity has burgeoned enormously since they opened their doors five years ago; swelling almost as big as the burgers themselves! Visitors are greeted by a long bar, neon signs adorning the walls and long sturdy tables (reinforced perhaps to cope with the weight of the meals on top!). In other words, stepping through their door is to be transported instantly to a typical high-end East Coast burger joint.
As befits a burger specialist eatery, the drinks selection is heavily orientated towards craft beers. Above the bar you will find at least twelve different brews, predominantly hailing from Catalonia, but also featuring lagers and ales from the US, UK and Germany. At Big Al's American Kitchen they recognise that just like wines, the time of year and choice of food should influence your choice of beverage, and that beer is just as important an accompaniment as any vintage. The only beer that does not change regularly is the Big Sissy Lager, which they make themselves.
Just like everything else at this restaurant, the menu is large. There is an overwhelming variety of burgers, including signature dishes such as the quadruple pattie Big Al burger, or the heart-stopping Luther Burger which is served with two butter-grilled artisanal donuts instead of a brioche bun. If you are feeling extraordinarily homesick (or unbelievably hungry), why not take up the Widowmaker challenge. This is a mammoth tower of six patties, separated by cheese, crispy bacon, eight-hour pulled pork, fried onions and grilled jalapeños, all wedged within a quadruple-decker brioche bun. To really mark your visit, finish the Widowmaker within 30 minutes and you'll receive a t-shirt and have your photo added to their wall of fame.
Beyond beef burgers however, Big Al's American Kitchen also offer every one of their burgers with a vegetarian patty instead. Their starters also consist of various other American favourites such as southern chicken wings, fried mozzarella and their renowned pulled pork nachos. Whilst ordering a starter before eating a main course large enough to feed three people is questionable, yet rewarding, their three cheese quesadillas with sour cream is a particularly exceptional dish to try.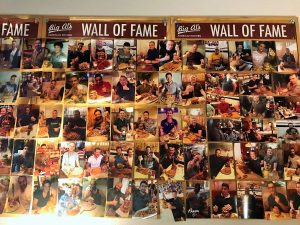 A dessert menu also seems rather superfluous in a restaurant that serves truly American-sized quantities, yet if you make it this far, you may as well go all in. The cheesecake is a mouthwatering blend of vanilla, peanut butter, lemon and chocolate but if you prefer something marginally lighter, try their warm homemade brownie sundae. Everything is served with the personal, friendly touch of American food service and the waiters will ensure that everything about your meal is up to the highest USA standard.