Barcelona is a very cosmopolitan city where culture plays a very important role in the life of local residents. It can be said that, as much as this is a link to culture, that we are able to find art in virtually every corner of the city: in its architecture, in its street art, in its history, in the music… but, above all, in the theatre, and our city has over 50 theatres! In this way, one of the things you have to do if you come to our city is to attend at least one spectacle. As there is so much to see and the fact that we do not want you to stress, we will now show you a list of the best theatres in Barcelona!
Best theatres in Barcelona:
– Gran Teatre del Liceu
Founded on 4th April in 1847, the Gran Teatre del Liceu is the most important t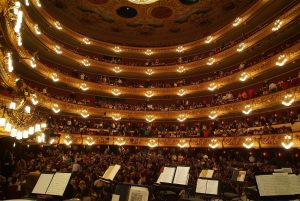 heatre in Spain and the second most spectacular in the whole of Europe. This is considered as a temple for classical music and opera, although it also has other types of things to see like concerts and musicals.
Furthermore, if you like the paranormal then you´re in luck, as legend says that the Gran Teatre del Liceu is cursed. This is because it has been burned down on 3 occasions (the last time in 1994), it has suffered a terror attack and they even say that ghosts are living there.
– Palau de la Música Catalana
This impressive and modernist styled building, opened in 1908, is one of the jewels in the crown of the best theatres in Barcelona as in 1997 it was declared as a UNESCO world heritage site. Furthermore, it is one of the essential visits that you must make during your trip to Barcelona.
Each day they put on diverse spectacles and shows based around Flamenco, classical music and, above all, Jazz.
– Teatro Coliseum
In the centre of Av. Gran Via you can find the wonderful Teatro Colisseo, which has history of almost 100 years and is one of the best examples of monumental architecture of Barcelona in the 1920s. Thanks to its fantastic location, it is a popular theatre among locals and tourists alike. It is thanks to this that the majority of shows that they perform are musicals and cabarets, in order to ensure that everybody has a fantastic experience and enjoys the spectacles.
– Tivoli
Another one of the best theatres in Barcelona, and one of the most popular, the Tivoli theatre. This lovely theatre, which you can find on a street by Plaza Cataluña and Paseo de Gracia, it is decorated in a classical style and is one of the biggest and oldest in the whole city (as it was opened in 1929). In Tivoli they celebrate diverse shows that are related to ballet every day, spectacles on a large scale and musicals. Without a doubt, it is a great choice to visit if you find yourself in the city centre!
– Club Capitol
Last, but not least, there is the mysterious Club Capitol. This is found in the heart of Las Ramblas and, although in reality it is one of the smallest theatres in the city, it is one of the most famous as well. This is due to its fantastic location, the large number of shows that it has and the fact that it is frequented by Spanish celebrities that perform in shows there, so don't miss it if you pass through the heart of this famous street! The works that are usually performed here are monologues and comedies.
With so many theatres distributed throughout the city, the truth is that it would be a crime to visit Barcelona and not go to at least one show in one of these magnificent shows that we have shown you… you have everything ready to go as they have ballets, musicals, Flamenco shows, monologues and performances all over the city! So that, now you know, don't waste time and go to discover first hand each of the best theatres in Barcelona.