Winter is one of the best seasons in the year to travel with family or friends as it is the holidays, the cities are lit up and decorated with Christmas decoration and it is not as touristy as in summer. Yet still, it depends on the place you go as it can be hard to see the touristy sights when there is so much cold and even snow… Therefore, one of the best options to choose is to visit Southern Europe! If you are looking for a sunny destination, where there is good weather, with lots of hours of light and where you can try one of the best cuisines in the whole world, there is no doubt that you have to come to our city and enjoy winter in Barcelona.
Things to do in the Winter in Barcelona:
-Fira the Santa Llúcia
Barcelona´s oldest and most famous Christmas market has over 280 stalls! This is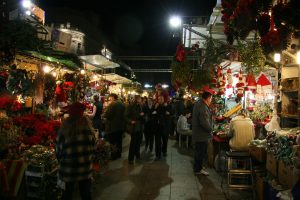 the perfect place to find some of the most unique Christmas gifts and enjoy the festivities of carol singing and nativity scene building. The market is located in front of the Cathedral de Barcelona in the Gothic Quarter. There will be several workshops and lots festive activities for all of the family and it is sure to get you in the Christmas spirit! The 233rd edition of this massive outdoor fair will run from 29 November to 24 December. If you´re spending part of your winter in Barcelona, this is one of the must-see parts of Catalan Culture!
-Barcelona Shopping Night
Thursday 19th of December sees the much-anticipated arrival of the 10th edition of the Barcelona shopping night, one of the best events during winter in Barcelona. This amazing magical retail experience is hosted by the iconic Passeig the Gràcia Street and inspired by Vogue´s International Fashion Night Out. For one night only, some of Barcelona´s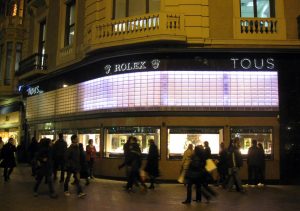 best and biggest retailers will open their doors for you from 08:00pm until 01:00am. The likes of Mango and Zara, as well as designer stores as Burberry, Timberland and other top names that will be getting involved in this homage to the world of shopping. Hotels and restaurants will also offer a festive tasting plate for just €7, which includes a beer and a range of festive gastronomic creations created by some of the city´s most renowned chefs.
-Exhibition
If many of the art galleries don't have any exhibitions on during the summertime, then wintertime often sees some of the most interesting exhibitions come to town. Art museums such as the MACBA or the CCCB, Barcelona´s Contemporary Culture Centre, regularly host outstanding international exhibitions. Even the permanent collections of most museums become more enjoyable and accessible thanks to the quieter atmosphere.
-Ice-skating in Barcelona
Do you love ice-skating? Then you are in luck! Each year during winter in Barcelona,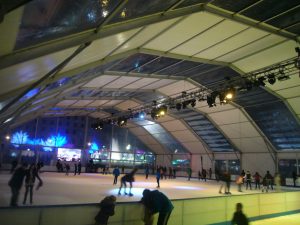 an ice-rink is set up in Plaza Cataluña where everybody can come to enjoy and skate with family and friends. Therefore, if you want to enjoy with some locals in the ice rink, this is the time to ready your skates or rent some at the ice skating rink. It´s not expensive and you will have a great time here. Don´t forget to wear gloves as they can protect you if you fall. Other options for ice-skating are: Kaliu park (24th December until 7th January) or Pedralbes Centre (24th November until 7th January).
-Montjuïc Magic Fountains
During the day, you can admire the Montjuïc fountains that are found in front of the Montjuïc palace and National Art Museum. However, during the Christmas months they transform at night to give you an amazing light show! Running in the evening from Thursday-Saturday, they begin at 8pm and go on until late. This is truly a great way to enjoy a winter trip to Barcelona!

As you can see, there are many unique and special activities that you can do during winter in Barcelona. However, our advice is that you simply go into the street and enjoy those little moments that make our wonderful Barcelona that bit more special, such as: admiring the Christmas decoration, try a great restaurant, go Christmas shopping, eat churros, go to the beach… overall, get yourself in the Christmas spirit one by spending an unforgettable day in Barcelona.