It does not seem real, but 2020 is just around the corner and, with it, the beginning of a new year full of opportunities and new challenges. That is why it is very important to welcome this new era in the best possible way surrounded by your friends and loved ones. Therefore, if you are looking to spend an unforgettable night full of unique experiences, you cannot miss the best New Year's Eve parties in Barcelona!
Spanish traditions at the end of the year
Celebrate the New Year's Eve in Barcelona is a great option if you are looking to have a great time and enjoy the most special night of the year surrounded by friends, since people in Barcelona love to party and welcome everybody. You know what they say … the more the merrier! We remind you that in Spain there are many New Year's traditions, which are lots of fun, so don't be afraid to join the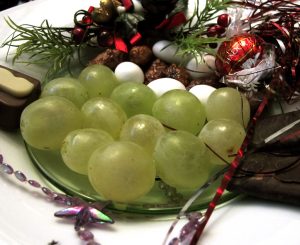 m.
• Grapes: There is nothing more Spanish than eating a grape for each of the 12 bells that are given as a countdown until arriving at 00:00 (a tradition that is often funny because very few people are able to eat them when the countdown is on). Yes! Do not make the typical mistake of starting to eat the grapes when the first bells ring, as those first 4 bells are only an announcement that the 12 bells are about to start.
• Red underwear: If what you want is to attract happiness and luck in the next year you will undoubtedly try to make your underwear red!
• Suitcases at the door: Before midnight, luggage is usually placed at the door as a symbol that you will make many trips in the New Year.
• Dress up: It is a tradition that once the New Year has started all families take out the mythical "New Year's Eve party" and dress up in wigs, false teeth, glasses, etc… to laugh and celeb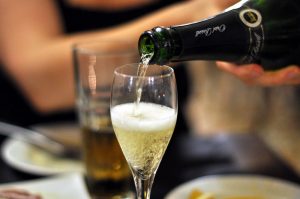 rate New Year's Eve all night long. So get close to yourself ready with dress up packs in advance.
• Toast with Cava: If you are going to celebrate New Year's Eve in Barcelona, it is obligatory to toast with the most iconic Catalonian drink, cava.
Where to celebrate New Year's Eve in Barcelona
-Plaza España-Av. Maria Cristina
If you are looking to celebrate New Year's Eve in Barcelona on the street, wit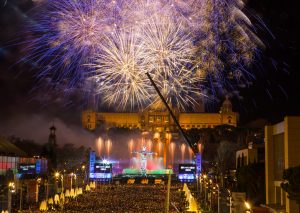 h locals and people from all over the world and, above all, for free, then this is your place. Every year the city council of Barcelona opens up all of Plaza España and Avenida Maria Cristina so that everyone who wants to enjoy the Magic Fountain of Montjuic show. This show of lights, fountains, fireworks and music starts at 21:30 until 23:48, when it gives way to the great New Year's Eve celebration with the chime countdown.
-Poble Espanyol
Undoubtedly, one of the most frequented places for young people to party at the end of the year is the wonderful "Poble Espanyol". Every New Year, this place organizes one of the largest parties in the whole city, where three different disco spaces are prepared, including the VIP area, so that everyone can enjoy the New Year's Eve in Barcelona in a big way. The party starts at 22:30 and ends at 6am. The prices of this "disco" range from € 35 to € 60.
-Clubs
If you do not want to risk going to places where you do not know if you are going to have fun, the truth is that one of the simplest options is to go to a club with your friends. Virtually all clubs organize events so that their clients can celebrate the end of the year in Barcelona, so you will h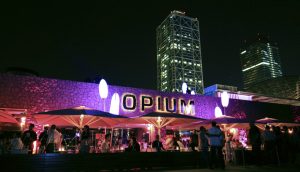 ave it very easy to find your ideal party! Some of the most famous sites in the city are Razmatazz, Opium, Shoko, Pacha and Otto Zutz.
Even so, keep in mind that there may be many more people than usual in this space, so we recommend that you go comfortably and, above all, that you buy your ticket in advance, so they do not run out.
Apart from all these plans there are many other options to celebrate the end of the year in Barcelona, such as going to Barceloneta and welcoming 2020 with a glass of cava surrounded by friends and enjoying the festive atmosphere of the city. On the other hand, if you like walking and prefer to have a different experience, you can go to a flamenco show, some even offer dinner and drinks!
So, now you´re aware, get drunk with the Christmas spirit and come celebrate all over the year in Barcelona!