It's no secret that Barcelona is absolutely loaded with bars, which is why we're often spoilt for choice of bars to write about. However, with the growing number of hidden bars popping up around Barcelona, we're excited to let you in on even more of the city's best kept secrets. Finding these hidden bars is like a treasure hunt of the best kind, after all, they do offer both adventure and a cocktail. So without further ado, here are our top 3 hidden bars in Barcelona; happy hunting!

El Paradiso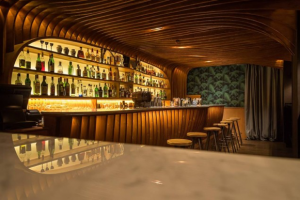 Located in Barcelona's trendy Born district, it comes as no surprise that this hidden bar has the personality to match. Finding El Paradiso is a fun and tasty adventure, as it is hidden behind the fridge door in an artisanal pastrami sandwich bar(which we definitely recommend that you try!). Walking past the queues of people and heading straight for the fridge will definitely make you feel like part of a clandestine group. However, once you step through the door, pull back the curtains, and are exposed to the ultra-chic décor and lighting; you'll be glad to be one of the lucky few that know about it.
Finding the bar is only half the fun as the surprises don't stop there. The wide range of cocktails and their presentation is nothing short of spectacular and guarantee to take you on a visual and taste experience. With their expertly created drinks menu, and cocktails being served in a range of ways, such as in treasure chests and jars of smoke, you are bound to be filled with awe. We guarantee that after a trip to El Paradiso, you'll be nothing short of impressed.
Address: Carrer Rera Palau 4, 08003
Opening Times: 7pm – 2:30am(3am Friday and Saturday)
1881 Per Sagardi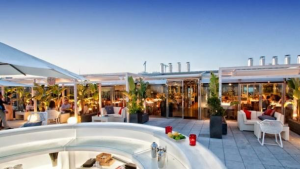 At Barcelona Connect, we love a trip to this rooftop bar and we are surprised it has managed to remain largely under the radar. Situated on the top floor of the Museum of Catalan History, 1881 Per Sagardi never fails to please, which is what has kept us going back there time and time again.
By day, this bar offers incredibly chilled summer vibes, with its white décor underneath the Barcelona sun, and a beautiful view of Port Vell and the surrounding area. By night the terrace becomes a slightly more intimate affair, with staff offering blankets and bringing outdoor heaters for individuals or groups so that you can comfortably enjoy watching the city light up at night. The atmosphere is topped off by the DJ who plays on the terrace day and night, which really helps to create a chic, laid back feel. And as if that wasn't enough, wines and beers are very purse friendly which is perfect for those trying to maintain a holiday budget, although you may have to splash out a bit if you opt for a cocktail. This bar is an incredible experience for day, night and everything in between and is the perfect hidden gem to visit if you're trying to avoid the tourist crowds.
Address: Museu d'Història de Catalunya, Plaça de Pau Vila, 3
Opening Times: 1pm – 1am (3am Friday and Saturday)

El Armario
Now for the most elusive bar on our list, El Armario. With no photos online, no official website or facebook page, and opening only when the owners feel like it, this bar is hidden in almost all ways possible. El Armario is like the urban legend of Barcelona bars, with stories of experiences being passed down from the lucky few who have managed to stumble across it when it has been open. As far as the tales go, the bar can be accessed Narnia-style by stepping through a hole in the owner's wardrobe, which leads onto a small enchanting bar with very reasonably priced drinks. The owners have done their best to make this bar a very novel experience, and we definitely recommend taking a stroll down to Carrer de la Riereta to see if it's open. Given that it is located in Raval district which is renowned for its extensive range of bars, you'll definitely not be short for an alternative option if El Armario is closed!
Address: Carrer de la Riereta, 11
Opening Times: Erratic