Weekends are great for wandering and sometimes nothing is more fun than spending a day sampling innovative foods or shopping the freshest local produce all in one location. In addition to the world-class restaurants and and upscale specialty shops that you can find in Barcelona, there is also a bountiful supply of indoor and outdoor food markets scattered around to give you an authentic taste of Spain's most vibrant city. From the infamous La Boqueria to the colorful Sant Antoni, we have compiled Barcelona's Best Food Markets where you can experience the true foodie scene of Catalonian culture to satisfy your market fever!
Mercat de la Boqueria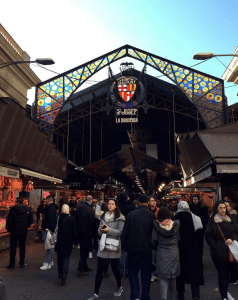 When you think of delicious food markets in Barcelona, La Boqueria is most likely the first one that comes to mind with its wide range of heavenly, fresh food of tropical fruits, fish and meat stalls, tapa bars and charcuteries. Located just off the famous Las Ramblas, this huge public market is one of Barcelona's most famous tourist attractions due to its divine aromas and lively atmosphere coming from every stall. Whether you decide to take a seat at one of the many teeming tapa bars or take a bite to go from one of the many stalls, you'll be sure to find plentiful options for foods of all varieties and nationalities under one roof!
Where to eat:
El Quim de La Boqueria – If you're on the hunt for mouthwatering dishes with a twist on it, you'll find the infamous huevos rotos here where fluffy eggs are cooked with delicious foie!
Bar Pinotxo – Serving the most delicious and authentic Catalonian dishes, this spot is a must-visit for chickpea lovers who wish to indulge in their heavenly stews.
Mercat de Sant Antoni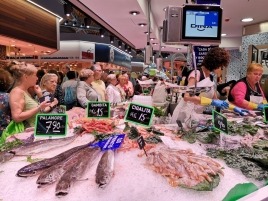 After much eager anticipation, Mercat de Sant Antoni reopened in May 2018 and has had tourists and locals flocking daily to their colorful market since. With over 235 establishments scattered in their contemporary barrio, Sant Antoni has a bountiful and fresh array of fresh meat, fish, fruit, and juices for your belly to choose. Even though the market consumes an entire city block and is one of the largest in the city, you'll find less tourists here and find it easier to peacefully eat your heart out.
Where to Eat:
Bar Casa Blanca – Located in the heart of the market, this hotspot not only offers you some of the freshest fish you can find in Barcelona, but also offers a juicy bacon and cheese sandwich that is a must have.
Mercat de Santa Caterina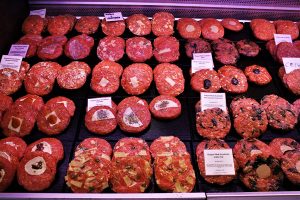 If you're on the hunt for a lively and vibrant foodie paradise at one of Barcelona's oldest markets, take a trip to Mercat de Santa Caterina where you'll find a gorgeous assortment of colorful seasonal produce, freshly caught fish, and beautifully cut Catalonian meat. The bright wavy roof of the Santa Caterina Market encapsulates the playful and vividly colorful atmosphere you'll find inside of this foodie haven.
Where to Eat:
Bar Joan – If you're lucky enough to snag yourself a seat at this famous spot, enjoy a set menu of the day with the freshest, grilled fish Barcelona has to offer!
Mercat de Sant Andreu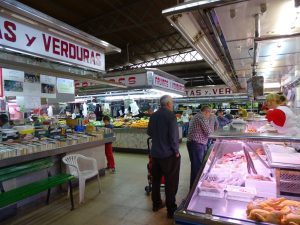 Hidden away in the charming neighbourhood of Sant Andreu, this local market transports you to a Catalan village in the olden times where you'll find welcoming, amiable stallholders and shoppers free from loud tourists. Although this peaceful market is a tad less economical than supermarkets, their fresh meat, fish, fruit, herbs and condiments are said to be of better taste and quality. Their cobbled streets and orange trees of alrrededor immerses you into a homey atmosphere that compliments what the market has to offer.
Where to Eat:
Chocolat – If you're looking to satisfy your sweet tooth, this chocolate heaven specializes in the highest quality chocolates, ice creams, and a variety of teas, including their renowned chocolate covered confit orange peel.
L'Abaceria Central Market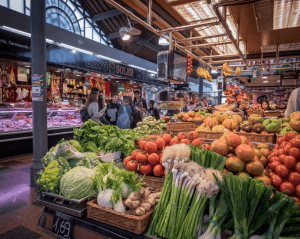 Sitting in the heart of Gracias, this market is arguably one of the most authentic markets in all of Barcelona where you'll find a whole world of sensations and experiences to choose from. Here you'll find mainly locals shopping about and an array of true Catalonian dishes to feast on. Along with a variety of organic vegetables, sustainable seafood, excellent charcuterie and artisanal cheeses to select, you can also discover Japanese sushi and fresh pasta, an Iraqi grocery stall and many other cuisines from around the world.
Where to Eat:
Bar Cal Mingo I Loli – For a heavenly foodie experience, indulge in their Cod a la llauna where you'll get a taste of authentic Catalonian cuisine!
Whether you take a trip to the bustling La Boqueria for an exotic fruit smoothie or a trip to Mercat de Sant Andreu to immerse yourself with the locals, a trip to any of Barcelona's Best Food Markets listed here will be sure to give you a slice of the local life that you can't get anywhere else in this beautiful city!