Picture yourself on the deck of a 41-foot, gleaming white sailboat, a glass of sparkling cava in your hand, gazing across the tranquil ocean towards the iconic Catalan skyline. Barcelona Watersports can make this idyllic daydream a reality, as they offer you the opportunity to take to the ocean and explore the Mediterranean on the excursion of a lifetime.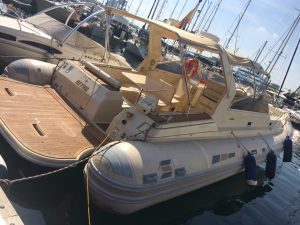 The company has three crafts to choose from: a sailboat, a powerboat and a small speed boat. No Limits is an appropriate name for the sailboat; you can voyage just about anywhere in this worthy vessel. Groups have been known to cross the Med to Ibiza and take it on week-long, sun-drenched cruises. A surround sound speaker system allows you to plug in your playlist and lazily drift away from the hustle and bustle of the big city; rocked to sleep by the lightly lapping waves.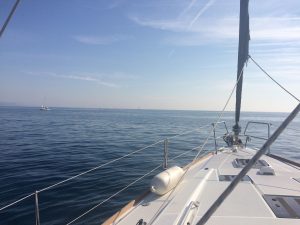 The flexibility of Barcelona Watersports is abundantly evident in the laidback and relaxed attitude of their staff. Not only will they take you wherever your heart desires, they'll let you bring any food and drink you fancy aboard, and even double-up as a waiter-cum-chef.  As such, you can sit back and relax before the breath taking beauty of the Spanish coastline, resplendent with magnificent mountains and ancient castles. The crew know all the best places along the Costa Brava shore and can find you a secluded spot to practice your diving from any one of their spacious decks.
But, for those peculiar folk who prefer hard work and manual labour to sunbathing and sangria, Barcelona Watersports has a place for you too. The opportunity is offered to undertake your Royal Yacht Association training in yacht sailing, powerboating, motor cruising and personal watercraft with Barcelona Watersports, and where better to practice than in the superb sailing conditions of Barcelona? Courses in this internationally recognised license run all year round, for beginners right through to advanced sailors, and all equipment, insurance and risk assessment are handled for you.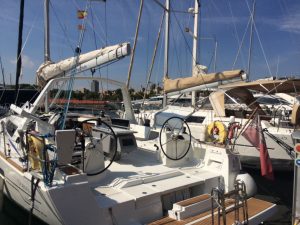 Just as the city of Barcelona draws people from all walks of life, everyone is welcome at Barcelona Watersports and they easily cater for all. Hen and stag dos are extremely popular, but equally so are family sightseeing tours and corporate events of up to 500 people. So whether you're looking for a memorable family outing or keen to hone your sailing skills, your first point of call should be Barcelona Watersports at Port Vell.