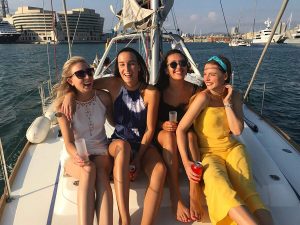 If you're looking to add that special touch to your trip to the Catalan capital, look no further than Barcelona Watersports' serene sunset sailing charter. Give your sore legs the rest that they deserve after traipsing up and down La Rambla, with a relaxing sail along the glistening Mediterranean waters. Barcelona Watersports' luxurious Oceanis 41 yacht, fully equipped with complimentary nibbles, life jackets and most importantly cava, certainly won't disappoint in providing you with a truly unforgettable evening of Barcelona watersports.
Your professional and charismatic skipper will await you at the iconic Port Vell – a stunning location renowned for its variety of upscale seafood restaurants and deluxe yachts. Once aboard your chic ride for the evening, you will have free reign to explore the spacious deck and meet like-minded holidaymakers – all whilst enjoying a chilled glass of cava.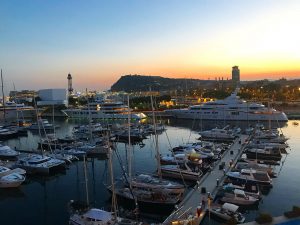 As you and your group set sail, your charismatic skipper-cum-tour guide will introduce you to the fabulous city of Barcelona, and provide a brief insight into the local culture and history. As you enjoy unique views of the city from the yacht's privileged viewpoint, you will be able to spot some of Barcelona's most emblematic landmarks, including the stylish W hotel, the Columbus monument and Montjuïc hill, amongst many others. It certainly is the ideal photo opportunity to create lifelong memories, so whilst striking a pose for the perfect Instagram shot is imperative, also make sure to snap the beautiful pink sky and candyfloss clouds.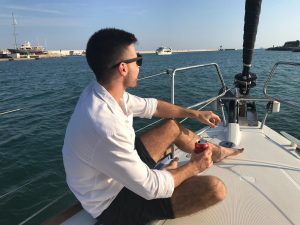 This 2.5 hour Barcelona watersports sailing experience is undoubtedly a wonderful addition to any trip to Barcelona, but simply a must for a romantic city break. Enjoy the magnificent Barcelona skyline and watch the evening sky transform into a spectacular array of pastel colours hand in hand with your loved one, for an experience like no other. Simply lie back on deck and let the cool breeze caress your skin, whilst you listen to the peaceful lapping of the waves against the boat and watch the last rays of sunlight reflect off the waves.