Traveling in a foreign country can be a bit complicated, especially when trying to figure out a new transit system. Thus, we decided to make a guide to make your traveling in Barcelona a lot smoother and stress free. Discover the Barcelona Public Transport.
Barcelona Travel Cards Hola BCN!
These travel cards are particularly convenient if you are only spending a weekend, or a few days in Barcelona. It is a single person ticket you only purchase once and lasts for the number of days you choose.  These cards include unlimited journeys on metro, bus, and the rest of Barcelona public transportation within 2-5 consecutive days in just one ticket. You can also use your card for metro passes from Barcelona airport to the city centre and vice versa. If you purchase online you get a 10% discount, to purchase click here.
Single Tickets
If you are not planning on using public transportation often you can purchase a single t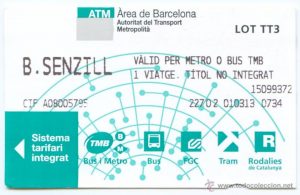 icket. Single tickets vary from the bus, airport ticket, and special football tickets. The basic single ticket is valid for one journey on the TMB bus, metro, or the Montjuïc funicular. It is also a single person ticket. They are available for purchase at the metro automatic vending machines and customer service centres. For prices and specific single ticket information click here
Integrated Transport Ticket
The integrated transport ticket is the most convenient if you're traveling for a few days alone or with friends and/or family and won't be using public transport enough to justify the Hola Barcelona day travelcards. There are various features to this ticket which you can learn more at tmb.cat, but we will focus on the T-Casual.
The T-Casual is a unipersonal travel card valid for 10 journeys from zones 1 to 6. As Barcelona city is allin Zone 1 and nearby towns are in the other zones, you'll probably only need a Zone 1 ticket. To know which zone you will be traveli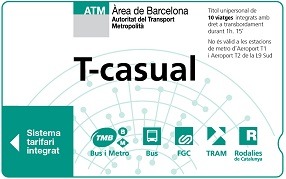 ng to/from click here. You can purchase this travel card at the TMB bus and metro automatic vending machines, customer service and information centres, or other integrated fair system operators. Prices also vary according to the number of zones entered, but if you just want to get around the centre of Barcelona the price is €11.35 for 10 journeys.
Barcelona City Pass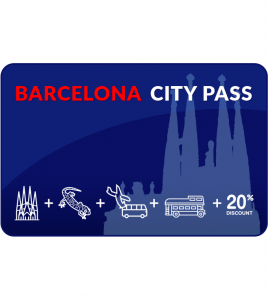 If you are looking for a card which includes unlimited transporta round the city as well as entry to the main tourist attractions, the Barcelona City Pass is the solution to your problems. When buying this ticket, you will have access to the Sagrada Familia, Park Güell, Airport travel and the Tour Bus- which goes around the whole city, as well as 20% discount off more than 60 activities throughout the city.
As you already know, if you are looking for the comfort of having Barcelona in the palm of your hand, do not waste any more time and get your Barcelona City Pass now.
Other Information
These were just a few examples of different methods of public transportation. If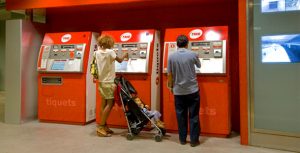 you'd like to learn more visit tmb.cat for more services and information. If you get lost or are not quite sure where to go don't be afraid to ask people in the metro stations or at the bus stops, there's always someone willing to help. There are also operators and information centres with useful information that are sure to help you get where you need to go.
Happy Traveling!