There's something special about vinyl. In fact, there's more than just one thing. The simple act of pulling a new record out of its sleeve for the first time; gently lowering the stylus so that the needle rests on the record; hearing the crackle through the speakers before the music starts; I find the entire process very therapeutic.
Whatever it may be that attracted you to vinyl in the first place, one common factor among all vinyl-fanatics, whether you be a collector, producer, DJ, or just starting out, is shopping for records. Spending hours trawling through stacks of records with no clue what you may stumble across. It may be something for which you've been looking for years or something you have never seen before, whatever it is, when you walk out of a record store with a new record, you always have a smile on your face.
Barcelona has a great music scene and thanks to the recent 'vinyl revival' (although many believe it never went away) more record stores have opened. Of course, there are many record stores in the city but don't worry, we have selected a few of our favourites for you to visit during your trip to Barcelona.
Disco 100
This family run record store was originally founded in 1978 just a little way down from its current location (Escorial 33) at Carrer de Escorial 100 in Gràcia, hence the name Disco 100. They moved to this bigger space in order to offer their customers a greater variety of music, and we are sure glad they did. With over 115,000 items in stock, they cover many genres including: jazz, classic, opera, blues, soul, funk, gospel, country, pop, rock, reggae, ska, metal, and also many traditional Hispanic and Latin genres. They also sell CDs, DVDs, and other items.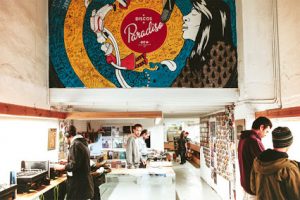 Discos Paradiso
Open since April 2010 and located just a couple of minutes walking from Barcelona's famous MACBA in El Raval, Discos Paradiso is a music store which specialises in the sale of vinyl, both new and second hand. In this store you can find a careful selection of mainly electronic music, with both fresh releases and second hands in techno, house, nu-disco, ambient, experimental and many more.
Discos Paradiso is also one of the only record stores I have come across in Barcelona to have good drum & bass, UK grime and dubstep stacks. Add this to their equally impressive hip-hop and reggae stacks and you get arguably the best record store in Barcelona. Make sure you have a look at the Polaroid photographs on the wall and you may come across one or two of your favourite DJs. I had a warm feeling inside when I realised Jackmaster and Ben UFO had looked through the same stacks as I currently was.
Discos Revólver
This store has been open since 1991 and is also situated in El Raval. The owners have 25 years of experience in the music industry and it was one of the first independent record stores to open in Barcelona. They have a great selection of music mainly concentrated on punk, grunge, heavy metal, rock 'n' roll, but also have a few stacks of indie and electronic. They're not just about records though, as you will find a large quantity of merchandise to go with new and second hand records and CDs.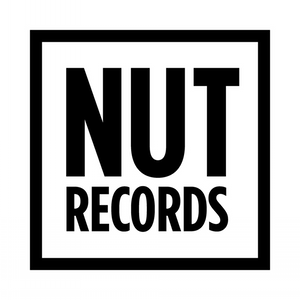 NUT Records
The newest and smallest record store on our list, NUT Records only opened a matter of months ago and is located in the heart of El Gótico. Although this store only has around half a dozen stacks of records, the owners sure know their electronica. Here you can find a selection of the newest and most underground techno and house from across Europe, of course with a few more well-known artists and labels. If you're lucky like I have been in the past, when you visit the owners will be doing a live stream radio show complete with a big bucket of beer, so make sure you hang about and have a listen if this is happening.
Wah Wah Records
This store was founded in 1992 with the mentality of offering what other record shops didn't. For over 10 years now, Wah Wah has been a reference outlet both in Barcelona and overseas. They have a highly specialised selection covering a wide range of genres and styles, from jazz to funk, from garage to rock 'n' roll, Wah Wah has it all. They also have many old disco rarities and the ultimate 12" singles in the dance market.
Disco 100: Carrer Escorial 33, 08024, Barcelona; Metro – Joanic (L4); open Monday to Saturday 10am – 1:30pm, 5pm – 8pm; Sundays closed.
Discos Paradiso: Carrer de Ferlandina 39, 08001, Barcelona; Metro – Universitat (L1); open Monday to Saturday 11am – 9pm; Sundays closed.
Discos Revólver: Carrer dels Tallers 13, 08001, Barcelona; Metro – Catalunya (L1, L3); open Monday – Sunday 10am – 9pm; Sundays closed.
NUT Records: Carrer de Milans 3, 08002, Barcelona; Metro – Liceu (L3); open Monday – Friday 12pm – 9pm; Saturdays 4pm – 9pm; Sundays closed.
Wah Wah Records: Carrer de la Riera Baixa 14, 08001, Barcelona; Metro – Liceu (L3); open Monday – Saturday 11am – 2pm, 5pm – 8pm; Sundays closed.