We completely agree that having a pet and sharing your life with this sweet animal is one of the best experiences you can live. At the same time, it is great to be able to take them anywhere with you and be well received there too. If you are on holiday with your pet and you don´t know where you can eat without leaving your dog at the hotel, we will show you some restaurants and shops where you can take your pet with you and help you discover the side of Barcelona pet friendly that we love so much!
Barcelona Pet Friendly, the best places:
-La Desayunería
Starting our Barcelona Pet Friendly list is "La Desayunería", one of the best places to eat breakfast in the city. This is a restaurant where they serve dinner & breakfast, they have pancakes, English breakfast and a plenty of deals throughout the day for you to make the most of. You can come here easily with your pet and enjoy a nice meal while relaxing in this nice and cozy setting of the restaurant.
-Bar Calders
Bar Calders is a Spanish restaurant where they serve typical Spanish dishes their Patatas Sant Antoni are so addictive! The setting is very relax and cozy, the employees always puts a bowl of water for the dogs and they are always good with the dogs. We definitely recommend that you to go and visit this restaurant with your pet.
-Can Dendê
For a nice brunch, you can eat at Can Dendê. It´s a charming local place with typical brunch options, like French toast or eggs benedict, and dishes with a Brazilian twist. Oh and don´t forget that little Dendê the dog is the owner´s pet! We´d 100% suggest this place to go with your pet and have a nice, enjoyable brunch.
-Merbeyé
Located next to the blue tramline station on the side of Tibidabo Mountain, the bar offers cocktails and the terrace offers some of the best panoramic views over the city. Most importantly, pets are very welcome so take your pet with you when you are going for a nice drink at the restaurant and try this magnificent Barcelona Pet Friendly site.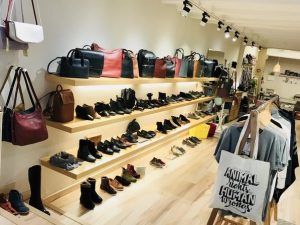 -Amapola vegan shop
Sin Amapola vegan shop is a place where they sell cool clothes and vegan accessories. They sell bags, shoes, clothes for children etc… dogs are always welcome here, they even have a wall with pictures of all the dogs that ever been to the store! Making this Barcelona Pet Friendly ideal for anyone wanting to go shopping with their pet in the city.
-Abrassame
Specialized in seafood, Abrassame is a fantastic restaurant located at the top of Las Arenas de Barcelona shopping centre. The wonderful terrace offers spectacular views over the city, the menu includes top of the range meats, rice dishes and burgers…. They also prepare exquisite cocktails. The setting of the restaurant is very romantic, modern and fashionable. This place is also one pet friendly restaurant in Barcelona because you can bring your dog on the terrace, where you can enjoy the view and a nice cocktail or some of their delicious food.
-Roots & Rolls
Tasty, healthy and unique, that is Roots & Rolls. A restaurant where they surprise us with their original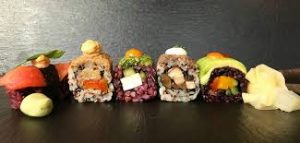 and elaborate vegetable sushi. A few meters from the Plaza Tetuán, and very close to the Girona subway, this space attracts customers with its delicate decoration that has a great attention to detail. The setting of the restaurant is up to date, informal and trendy but, most importantly, it is pet friendly.
Every single one of the sights we have mentioned today are great to bring your pet to, they will be so well received and feel like one of the locals. Therefore, what is better than discovering one of the best cities in the world, and its´ gastronomy, next to one of your best friends? So that you don´t doubt it for a minute, come and discover the best places of Barcelona Pet Friendly!