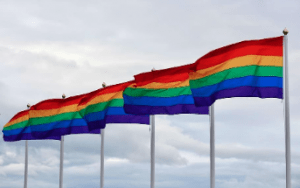 Over the last few years, Barcelona has become one of Europe's favourite destinations for the Lesbian, Gay, Transsexual, Bisexual and Intersexual community. Being a very open-minded city, Barcelona is home to many events associated with diversity and freedoms that are accessible for everyone. This is exemplified through the LGTBI-district, which is an excellent reference point to this development.
The centre of the LGTBI-district is situated in Eixample, or as most locals call it, 'Gaixample'. The streets in this district are home to numerous gay-friendly bars, restaurants and shops. Whilst strolling down the centre of Eixample, you will be able to see the various rainbow flags flying proudly by locals from their balconies and shops. In addition, Visitors will find gay- and lesbian-friendly travel agents and hotels, as well as hairdressers, fashion boutiques, restaurants and clubs.
Being situated in the heart of Barcelona, 'Gaixample' is a great place to explore some of Barcelona's most iconic landmarks. Architecture lovers will be able to follow the famous modernism trail and the Gothic Quarter. 'Gaixample' is also really well connected to many great shopping areas in Barcelona! The LGTBI route also extends to other districts, including the Raval, Poble-sec and Poblenou, where a number of clubs host parties for the LGTBI community.
LGTBI-Friendly events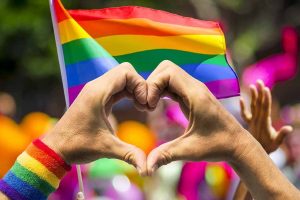 As mentioned before, the city of Barcelona hosts many LGTBI-friendly events. Almost every month, an event is organized for everyone to participate in. To help you, we have listed some of the most popular LGTBI-events for you to visit!
Churros con Chocolate
The first event we'd like to share with you is Churros con Chocolate. This event that once used to be a small gathering in a small Raval venue upscaled in 2012 to the Apollo venue. After hosting it in the small hall, the event is now hosted in the big hall of the Apollo. The Churros con Chocolate event is hosted every month and you can expect people dancing to Spanish pop music mixed with more international music. The atmosphere is very welcoming, and you will immediately feel a sense of belonging!
Pluma
Perhaps the most famous party in Barcelona is Pluma. This event should definitely be on the must-visit list for everyone interested in LGTBI-events. In this cave of light bulbs and colors, Pluma is a place where you can watch several forms of entertainment such as, playbacks, choreographies, monologues, numerous drag queens, performances and even poetry! It is a great place to meet some people and to have a great time. 
La Melon
A great place for lesbians to party in Barcelona is La Melon. The first edition being in 2010, La Melon has hosted several more parties since then. Once a month, they organize a get-together for the lesbian community in Barcelona to dance to commercial house music, mixed with a Spanish hit played every now and then. Every first Saturday of the month, La Melon can be visited at the Upload venue in Poble Espanyol.
LGTBI Culture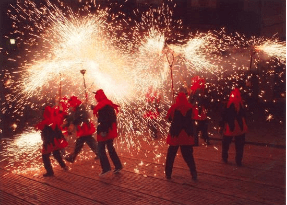 In addition to the many LGTBI-Friendly parties you can visit, Barcelona's LGTBI-route also offers two gay and lesbian film festivals from July to October. Namely, FIRE, organized by Casal Lambda, and the Festival, organised by the Filmoteca de Catalunya. In addition, Barcelona is home to another popular event namely, the sporting championship Panteresports, which is held every year in September. 
As you've seen, there are more than enough LGTBI-events for you to visit! If you're interested, make sure you visit these events to have a great time during your next visit to Barcelona! There are countless associations working every day to make Barcelona a more open-minded cosmopolitan city so that everyone, regardless of your background, feels at home in Barcelona!