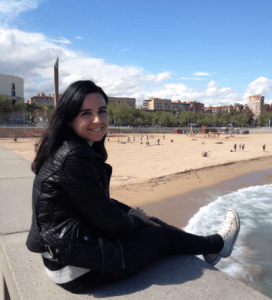 Marta Rubio is a Barcelona-native who likes to share her tips and knowledge about the city where she was born and raised. She runs HolaBarcelona.nl, where she gives all kinds of insider tips, information and news about the Catalan Capital. Her aim is to let you discover the real and authentic side of Barcelona. Although she has been living in the Netherlands since 2008, she regularly returns to Barcelona to discover new places which she can pass on to her readers.
Marta decided to leave Barcelona some years ago. Switching the mediterranean for the North Sea, she studied a master's in marketing. Then she began working in the online marketing sector for several companies. Nowadays she runs her own company, HolaBarcelona.nl. We were able to ask her a couple of questions, to give you a glimpse into the life of a local in Barcelona!
Since you were born and raised in Barcelona, could you tell me what makes this such a special city?
Barcelona is a great city and I don't just say that, but almost everyone who lives there or has been there. There are several reasons that contribute to this. For instance, the mild climate and the location on the Mediterranean Sea, the many architectural highlights, the wide cultural appeal, the choice of shops and restaurants and, of course, the relaxed vibe that there is.
Which neighbourhoods in Barcelona would you recommend, and which ones would you possibly advise against it?
The district you choose depends, of course, on the purpose of your visit. Anyone who has been in Barcelona must have seen the Gothic Quarter, with the cathedral, medieval palaces and squares. As well as Eixample, the cradle of Catalan Modernism. The old fishing district of Barcelona is also very nice to see, especially in summer, when its beaches are popular. Other nice places where I like to spend time are El Born and Gràcia, neighbourhoods that are considered very hip. If you like street art, undiscovered hotspots and alternative places, then neighbourhoods like El Raval and Poblenou are more recommended. In the latter, however, there are some areas you should watch out for as they can be less safe.
What is HolaBarcelona.nl, and what makes this blog unique in comparison with others?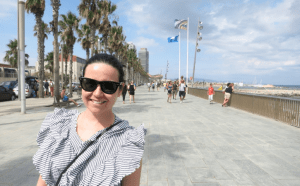 HolaBarcelona.nl is a travel site where I, a Barcelonesa, share all kinds of tips about my hometown. That's what puts me in front of the rest. Being from Barcelona, I can share the best insider tips of Barcelona with the visitors like no other. Anyone in the Netherlands or Flanders who wants tips about Barcelona from a real Barcelonesa who happens to speak Dutch, has come to the right place!
Is there any place you could recommend to tourists that' s not in the "Sightseeing top 10"?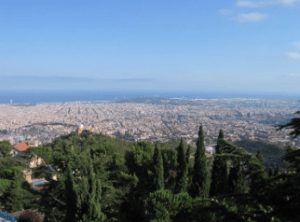 Barcelona is such a big city that fortunately there are still many hidden gems to surprise even the most seasoned visitors. One of my favourite places in the city that you won't find in the guidebooks is for example the Carretera de les Aigües. This is a 10-kilometer-long hiking trail in the Collserola mountains where you can find the most breath-taking views of the city. A place where you can take a break from the hustle and bustle of the city. It is also a place where many Barcelonans come to play sports.
What is your favorite place to spend your time in Barcelona?
When I am in Barcelona, you can usually find me in Horta. This is the district where I grew up and where my family and friends still live. Horta is a cosy and welcoming neighbourhood in Barcelona at the feet of the Collserola mountains. Far enough from the centre, you encounter few tourists. However, the district is still vibrant enough to see and do all kinds of things there. I regularly visit the local market, eat tapas at one of the many local bars at Plaça Eivissa or enjoy nature in the city parks Parc del Turó de la Peira and Parc del Laberint d'Horta.