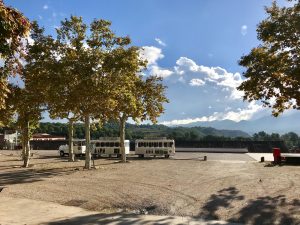 If you're seeking a day trip outside Barcelona and don't want the hassle of organising it yourself, look no further than Barcelona Guide Bureau's 'Montserrat & Codorníu Wine Cellars tour'. A six and a half hour trip, this Codorníu wine tour and Montserrat tour will take you to two of Catalonia's most iconic sights in a comfortable and spacious bus, accompanied by a knowledgeable and professional tour guide. Simply sit back and relax, free to take in the stunning views of the rugged scenery, and watch the beautiful wine countryside and jagged heights of Montserrat approach from the comfort of the coach.
Meet your group in the city's focal point, Plaça Catalunya, bright and early at 8.30am. From here you will head to Codorníu – a paradise for cava enthusiasts for a Codorníu wine tour. Cava (Spain´s answer to champagne) is an intrinsic aspect of the local culture, gastronomy and tradition, therefore where better to gain a comprehensive understanding of the sparkling wine than the world's oldest and second largest cava producer worldwide.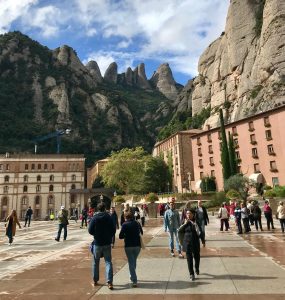 Following a brief wander around the site's stunning grounds, your Codorníu guide will escort your group to the cellars. Boasting the largest underground cellars in the world, with a total 34 km of tunnels to store the cava, it truly is a spectacle and an impossible task to explore it all. Fortunately, an exhilarating ride on their cava train takes you through the vast space, as you weave your way through the thousands of cava bottles during this Codorníu wine tour. With your senses teased by the sight and smell of sparkling wine, sample two of their most popular products and enjoy a chilled glass of white and rose cava in their subterranean bar.
Hop back on board, and head from the beautiful Penedès wine region to Montserrat – an area renowned for its outstanding natural beauty. Once arrived, your guide will lead you to the best viewing spots for some Instagram-worthy snaps before showing you the famous monastery. Alternatively, if you would rather roam the area yourself and find a spot for lunch, you are more than welcome to. Instead of opting for the mediocre and costly cafe situated up the mountain, we advise bringing a packed lunch to satiate your appetite after a morning of exploring!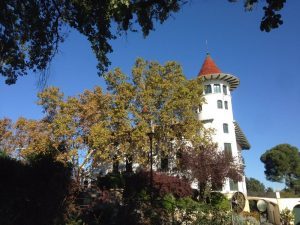 Whilst the tightly packed schedule permits only a couple of hours in Montserrat, it is plenty of time to cover the area's top sights. If the queue isn't too long, we recommend lining up to rub the legendary Black Madonna statue for luck, and seeking out the hidden nooks and crannies for unparalleled views from 3,000 feet above sea level.
A one hour trip back to the city is the perfect opportunity to scrub up on your general knowledge of Catalonia. Your guide takes the opportunity whenever travelling to educate the group about Catalan traditions – pleasing all culture vultures on board. Otherwise, if the cava and walking has taken its toll on you, it's the perfect time to take a well deserved siesta. With you arriving back to Plaça Catalunya at 3pm sharp (basically lunchtime for the locals), you still have the rest of the afternoon for discovering the rest of what the fabulous city of Barcelona has to offer.