The concept of tapas has certainly evolved over the years. What initially began as a light accompaniment to a beverage has metamorphosed into a style of eating, and even a cuisine itself. Nem has gone back to tapas' roots by serving a simple, but nonetheless varied, assortment of dishes. That said, their fusion of local and exotic ingredients is far from traditional, especially with its selection of lighter and, not to mention, healthier recipes.
Combining Spanish and Asian influences, Nem is a must if you're seeking somewhere different during your coastal retreat to Sitges. Their sea bream sashimi is simply divine, bursting with revitalising flavours and zest, and it perfectly compliments their vegetarian concoction of roasted beetroot carpaccio, topped with whipped goats cheese. Even their take on a quintessential tapas staple, patatas bravas, is innovative and unique. Rather than the typical cubes of potato, dressed with a garlic aioli and tomato sauce, Nem serves crispy potato skins with yoghurt and a rich tomato sauce, garnished with coriander – introducing an entirely new dimension to the recipe.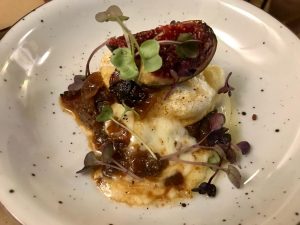 However, a trip to Nem is incomplete without sampling their eponymous and elusive nems. Their absence of a description on the menu certainly teases diners, however if you're brave enough to order the unusual dish, we assure you that you will not be disappointed. These  Vietnamese spring rolls, crispy and oozing with flavour, will certainly leave your tastebuds singing with joy, especially if you follow your waiter's recommendations of how to eat them; wrapped in lettuce and dipped in their chilli sauce. There's no doubt that these cylindrical drops of heaven will leave you eager to return to Sitges.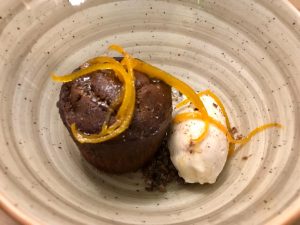 Whilst Nem's minimal offering of four desserts may be worrisome to those with a sweet tooth, they have sublimely chosen four desserts to cater for all palettes – all with impeccable presentation. Our top picks are their decadent hot chocolate coulant, served with chilled leche merengada to create the perfect contrast. Alternatively, if you prefer something more fruity and refreshing, their coconut tapioca is out of this world. This fashionable dessert is all the rage at the moment, following the bubble tea phenomenon, and Nem have the hit the mark by pairing it with passionfruit sorbet.
What's more, Nem's friendly and relaxed atmosphere is an idyllic spot to enjoy a romantic meal with your loved one or a casual meal with friends. The restaurant's appeal to English tourists means that you can enjoy a taste of home away from home, and creates a communal vibe with diners recommending their favourite dishes to fellow Nem lovers.