Housed where the iconic writer Manuel Vazquez Montalban was born, Arume certainly stands out on Raval's eclectic restaurant scene. Since its opening in 2014, tourists and locals alike have flocked to this Galician eatery to sample traditional dishes from one of Spain's most beloved gastronomic regions. Whilst authenticity is key to their mouthwatering menu, Arume has put a contemporary twist on classic and time-tested recipes making this place both unique and innovative.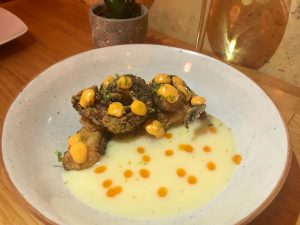 Arume is the brainchild of Eduardo, Rocio, Carlos and Rubén – following the success of Carlos and Rubén's fabulous restaurant Cera 23 – one of the Catalan capital's most beloved and highly rated dining spots. Only a stone's throw away from one another, Arume imitates Cera 23's impeccable service, attention to detail and flawless presentation. At Arume, you can expect only the highest standards, and consequently a meal to remember.
Boasting some of the finest cocktails in Barcelona, it would be rude not to kick things off with one of their tempting concoctions. Their blackberry mojito is an excellent choice, with its fruity undertones, rum kick and generous fruit garnish. Word has certainly got out about their famous mojito as it is unusual to not have at least one mojito present on each table.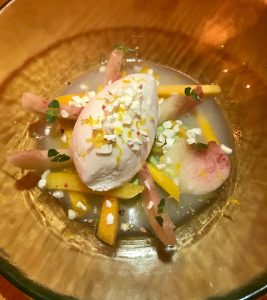 With your tastebuds salivating at their Atlantic-inspired menu, it can be tricky business narrowing down your choices, given Arume's plethora of scrumptious options. We recommend beginning your meal with a selection of tapas dishes, especially their take on the emblematic Galician octopus dish ''pulpo a la gallega'. Lightly crisped octopus served with a creamy, whipped potato and smoky paprika, it's no wonder Arume won best 'Tapa of the Year' in  2015 with this crowd pleaser. Whilst you will undoubtedly find this dish in plenty of other restaurants in Barcelona, we can assure you that it won't taste quite like this. If room permits, opt for their duck paella which is an unusual spin on a quintessentially Spanish dish – one that exudes flavour and creativity.
The minimalist style of Arume's interior only adds to its charm and atmosphere. Rather than prioritising fancy decor, their focus is on serving high-quality, beautiful and delicious food – something that can't always be found in such a tourist saturated city. Indeed, it's not always easy identifying the good from the bad in central Barcelona, however heading off the beaten track into the bohemian neighbourhood of Raval is an excellent place to start. After a meal at Arume, head to one of the many quirky bars in the surrounding area to finish off that night in Barcelona that you'll be reminiscing fondly in years to come.