Often cited as one of the best restaurants in Barcelona, Agust Gastrobar lives up to its lofty reputation in every regard. A two-floor, modern, international tapas restaurant in the up and coming area around Sant Antoni, Agust Gastrobar's quality of cuisine and innovative presentation puts them leagues ahead of the majority of their competitors.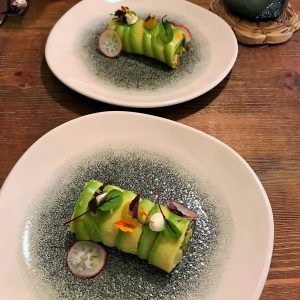 Hicham Houmidide, one of the owners and chef of Agust Gastrobar, presents a variety of cultures and countries with his diverse menu. You can take a trip around the Mediterranean and beyond simply by sampling their six-course taster menu, arriving in France, Peru and the Near East with each successive plate. Even better for those with a sweet tooth, the tasting menu includes not just one dessert, but also a pre-dessert too!
Central to the cuisine's success and attraction is its simplicity and freshness. Take, for instance, their avocado cannelloni stuffed with prawns, sunflower seeds and lightly flavoured with a vinaigrette. This beautifully presented starter doesn't overload the tastebuds but instead gently teases them with its straightforward blend of flavours. Similarly, Agust Gastrobar's matured beef carpaccio served with parmesan cream and cockles creates a visually and sensorially impressive dish with just a few select flavours and ingredients.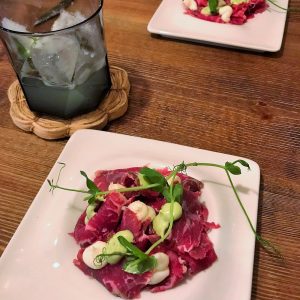 A strong South American influence is made clear with a wide variety of exotic options available, such as the tiradito criollo of scallops with yellow chili pepper, passion fruit and sweet potato and the "Cartagenera" style octopus braised with balsamic vinaigrette. Both plates source their ingredients locally but use recipes from Peru and Colombia to create these tapas fusion delights. Amongst the desserts, the tapioca pearls with caramelized pineapple, homemade rum ice cream and coconut foam is a dish inspired by Brazilian haute cuisine.
To complement their delicately ornate tapas dishes, Agust are also experts in cocktail mixing. Ten cocktails, two alcohol free, can be found on their menu, with intriguing names that captivate one's imagination. 'Winter is Not Coming' is an unusual blend of cider, cinnamon, cognac, anise, apple, creating an autumnal, fruity beverage, meanwhile 'Le Jardin de St Germain' keeps things sweet and summery with elderflower, basil, lime, orange and ginger beer. Naturally, beer and wine is also available with many vintages from Catalonia's own wine-producing regions.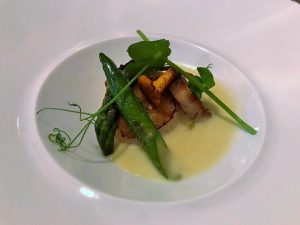 Agust Gastrobar's fame has grown through two channels, exceptional reviews on TripAdvisor and good old-fashioned word-of-mouth. For a tapas restaurant to rise to prominence in a market as saturated as Barcelona's, it has to offer something truly special and the best way to discover Agust Gastrobar's secret is to visit yourself.