In a city that is slowly becoming populated with various types of craft beers, it can be hard to know where to look to find the real quality drinks.  Luckily for all of you, we've come across one brewpub that really stands out from the crowd: Abirradero.  Located in the heart of Poble Sec, this restaurant and brewpub dominates the competition with both quantity of drinks on tap as well as the quality and effort put into each beer.
What's in a name?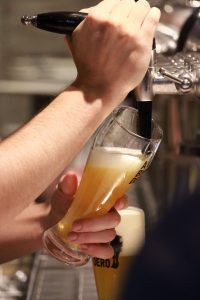 Abirradero hasn't actually been around for that long; originally, a restaurant named Abrevadero stood in its place.  Abrevadero opened in 1917, when the neighbourhood of Poble Sec was dominated by the crowds of people coming to see cabaret and theatre shows. Thanks to their great selection of tapas and Castilian-Leon cuisine, the locals quickly became enraptured with Abrevadero.
For those of you who are not familiar with the word, Abrevadero literally means trough (as in a water trough for animals).  This is due to the trough right in front of the restaurant that was primarily used by carriers and muleteers who, at the time, worked around the port of Barcelona and Montjuïc stone quarries.  As a way to honour the long-time restaurant, as well as to remember the past of Barcelona and the neighbourhood of Poble Sec, Abirradero chose their name in a similar way, with a play on words on "birra" (beer).
Cerveza Artesana Homebrew S.L.

Abirradero is backed by one of the largest craft beer leaders in Spain: Cerveza Artesana Homebrew S.L.  Founded in 2010, this business has been setting up microbreweries throughout Spain; in fact, they can proudly state that they have more than 150 projects running at this time.  You can notice their microbreweries or brewpubs by their registered trademark: Slowbeer.  However, Cerveza Artesana has been doing much more than just setting up these locations.  In an effort to spread craft beer culture to those who wish to get involved, they have been running training courses through their very own Instituto de la Cerveza Artesana (Craft Beer Institute).  Also located in Poble Sec, the ICA has the objective of providing continuous and specialized training in brewing and to spread craft beer throughout Spain.  However, the ICA is much more than just a school: it also contains the microbrewery where Abirradero's beers are brewed.
The Brewpub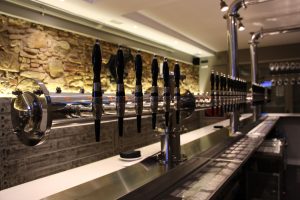 Now, you may be asking why this brewpub is special amongst many of the other craft beer locations from around Barcelona and Spain.  Here's a fact: Abirradero has 40 separate beer taps, making it the brewpub with the highest number of taps in all of Europe.  What's more, over 20 of these taps are of their own brews.  However, if you're looking for commercial drinks, don't.  Abirradero only sells craft beer, craft sodas and purified water; they don't sell anything full of refined sugars and preservatives.  And while there are many brewpubs that have their own beers on tap, Abirradero's is of top-quality as they come straight out of their brewery only a few doors down.  So while other brewpubs have their beers shipped to them, potentially degrading the products with temperature fluctuations and jerky movements, Abirradero's product is served just the way it was meant to.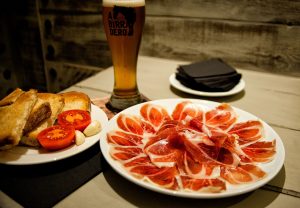 In addition to being of the highest quality, there is another detail that makes Abirradero's beers so popular: they're tailor-made.  One of the great things about having a brewery and its brewpub so close together is the increase in communication between the staff.  While working in the brewpub, many of the bartenders pick up on the different tendencies people have towards beers, whether they´d prefer a different flavour or wish for a certain type of beer.  The staff then relay this information on to the brewery itself, where they focus their efforts on producing new types of beers that adhere to the preferences of their customers.  Abirradero is constantly improving their selection of craft beers, and are more than looking out for what their customers want.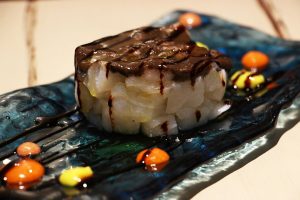 You may have noticed I've been saying brewpub instead of bar.  That's because as well as craft beers, Abirradero is a restaurant as well.  With several excellent tapas and sandwiches, as well as fine dining, this brewpub is perfect for any occasion, whether you're going for a drink with friends or want to sit down for dinner.  However, this food is not anything ordinary; the cooks add at least one ingredient used in their beers go every dish, such as malt, hops, or even the beer itself.  For instance, the rabo de toro (bull's tail) is cooked with Belgian-style beer instead of the more traditional wine.  So if you're in for some tartar salmon, tagliata or octopus tentacle, have a seat at Abirradero.
Who do we have to thank for this?
When discussing Abirradero or Cerveza Artesana Homebrew S.L., the name that stands out above all others is Daniel Fermun.  Daniel has had more than 10 years of experience in the craft beer scene, from setting up microbreweries in 2003 to founding Cerveza Artesana Homebrew S.L. in 2010.  He currently has set up more than 100 microbreweries who brew with the Slowbeer brewing machine (registered trademark of Cerveza Artesana), and is a Beer Sommelier certified by Doemens and Beer Judge certified by BJCP.  In terms of Abirradero, there is one thing specifically that makes him stand out: he has designed ALL of the beer recipes of Abirradero.  That means whenever you drink an ICA beer in Abirradero, he was the one who created this.  So cheers to you Daniel, the craft beer scene sincerely thanks you.
A Neolithic Recipe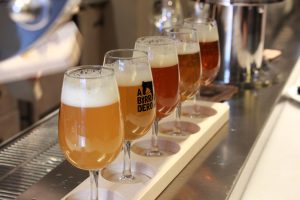 As you can probably tell from their involvement in the craft beer scene to the ICA, Cerveza Artesana and Abirradero have a tendency of giving back to their community.  Back in 1999, an archaeological group named CIPAG found the oldest beer remains in Europe in a cave called Can Sadurni which date back to 6,400 years ago.  Due to an agreement with CIPAG, Cerveza Artesana has recreated this beer named Encantada (Enchanted) with ingredients prevalent back in that historical period: thyme, berries, barley, honey and wormwood.  With every one of these Encantadas sold, Abirradero sends a portion of the profits to help finance the archaeological project.
In addition to remembering the past, Cerveza Artesana is involved in creation of new techniques as well.  The business joined forces with Cooperativa Arrossaires del Delta de l'Ebre (a cooperative for rice growers) to create rice malt, the first of its kind in the world.  Abirradero is brewing the first beer with this kind of malt.
Visit Abirradero!
Want to check out the brewpub yourself?  Come to Carrer de Vila i Vilà, 77 in Poble Sec just off of the Parallel metro station to see what the fuss is about.  On the last Wednesday of every month there's a tour of the brewery, so make sure to check it out.  If you're interested in taking a class on brewing, starting your own brewpub or managing one, take a look at the Cerveza Artesana website for more information.