Just off Barcelona's bustling Via Laietana hides Carrer Montcada, a glorious street in Barcelona's old town home to an eclectic mix of museums, craft shops, and bars. Here are five of our favourites.
Picasso Museum
The most famous site on Carrer Montcada, The Museu Picasso houses one of the most extensive collections of artwork by world-renowned Spanish artist, Pablo Picasso. Opened to the public in 1963, the museum was the first ever site dedicated to the artist's work and remained the only one created during Picasso's lifetime. Aside from its captivating collection and awe-inspiring artwork, The Museu Picasso gives light to the artist's extraordinary relationship with the city of Barcelona, a place that he considered both his muse, and his home.
Carrer de Montcada, 15-23.
Museum of World Cultures
Discover unknown cultures, religions, and traditions, and embark on a journey around the world at the Museu de les Cultures del Món. With 35 halls and around 2400 pieces exhibited over three floors, the museum offers visitors a unique opportunity to get familiar with artistic creations from the far-off continents of Africa, Asia, America, and Oceania. This most extensive and complete non-Western art and culture collection in Catalonia is guaranteed to satisfy all curious minds.
Carrer de Montcada, 12.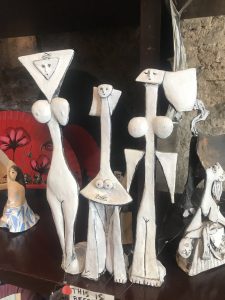 Kitsch
Kitsch is a souvenir shop with a difference, selling a range of homemade products that are perfect to take home for family and friends. Everything sold at Kitsch has been lovingly hand crafted by the owner herself, the shop specialising in traditional Spanish wooden fans hand painted with different designs. She also sells papier mâché figures resembling popular Picasso pieces- a much more personalised and memorable memento than those sold in the museum gift store!
Carrer de Montcada, 10.
Euskal Etxea
Styled on the classic taverns and cider houses in Spain's Basque Country (also known as Euskadi), Euskal Etxea Taberna brings the best of El País Vasco to Barcelona, including its sensational Basque cuisine. Diners are encouraged to help themselves to pintxos (traditional Basque finger food) from Euskal Etxea's inexhaustible pinxtos bar, washing down these delectable delights with a traditional Basque beverage, our favourite being Txacoli- a speciality white wine from the region. Highly recommended.
Placeta de Montcada, 1.
El Xampanyet
Named after the homemade sparkling wine that it serves, El Xampanyet has been making its mark in Barcelona's since 1929 and is the funkiest drinking spot in town. The bar is known by its bota bags – leather bags typically used to drink wine- hanging outside, a Spanish authenticity that also continues into the bar's selection of tapas and drinks. Despite being in the centre of the city, El Xampanyet has managed to keep its personality and give guests a true taste of the local Spanish experience.
Carrer de Montcada, 22.