A day in and round Montjuïc can be a nice escape into the scenic and luscious land, which overlooks the city from the South. As well as being home to some lovely outdoor parks and natural beauty the small Mountain also hosts a range of grand architecture, museums and history. In addition to this Montjuïc was a centre-point for Barcelona's 1992 Olympic games, making there an abundance of things to see and do on this hillside.
Placa Espanya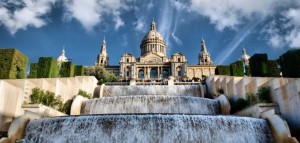 The Palace – The Museu Nacional d'Art de Catalunya (MNAC)
Beautiful inside and out, the MNAC has an impressive and extravagant exterior with amazing artwork throughout its interior to match, making it a spectacular building and museum. Situated partially up Montjuïc the Museum overlooks the Magic Fountain, former bullring (Las Arenas) and much of the city. The gallery itself has an extensive range of art from sculptures to paintings, engravings, drawings and photography. The museum's emphasis is Catalan art but its works date from the Romanesque period up until the mid-20th century.
Magic Fountains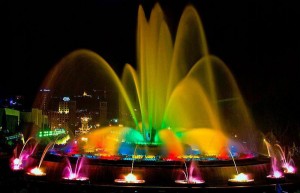 As you approach the Palace (MNAC) you will see a wonderful display of fountains and waterworks, known as the Magic Fountain (Font màgica de Montjuïc), which has been running seasonally since 1929. The fountains run throughout the day but it is at night when their displays truly come alive. Accompanied with lights and music the main fountain becomes a chorus of water, colour and music and is hugely popular with tourists and locals, with the Fountain lighting up the night sky. It is an amazing thing to see for kids and adults. In the warmer months it increases it's frequency so check the timetable as it is subject to change depending on when you visit and it's free!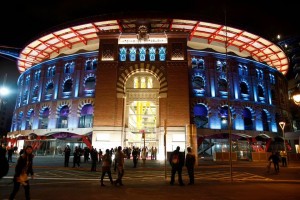 Las Arenas (Former Bullring, now shopping centre)
Las Arenas shopping centre is filled with shops from top to bottom and has a circle of restaurants on its rooftop giving you a 360 degree opportunity to view the city while you dine. Recently renovated in 2011, the bullring has been transformed into a modern shopping and leisure centre, with restaurants and cinemas too. Since the banning of bullfighting in Catalonia the ring is now home to other forms of entertainment and leisure but remains a tourist attraction; although somewhat less traditional than its original purpose. Take the escalators to the top to enjoy a panorama of the neighbourhood and some lovely views as you walk round the former top of this old bullring.
Montjuïc Mountain
The mountain itself is covered with history, culture, gardens and sports. The name Montjuïc may have Catalan orgins, with juic meaning Jewish, indicating a former Jewish settlement. However, others argue it may have derived from Latin Mont Jovis, named after the Roman God, Jupiter. Havig been used by Madrid as strategic stronghold in the 1842 unrest, as well as by Franco in the Civil War as a political prison. Montjuïc has since been transformed and revived into a lovely area of Barcelona and a major events area for the 1992 Olympics.
Montjuïc Castle
Montjuïc Castle is situated 170 metres above sea level, giving it some amazing views of the city from the South.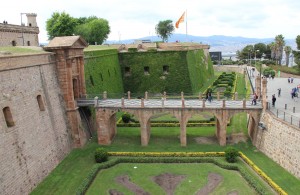 Built in 1640 it has overlooked centuries of change in the city, and is one of main attractions and highest points on the mountainside. Entrance is free on Sundays but prices are not too expensive during the week, with discounts for students, seniors and other concession tickets. The castle offers some of the best, highest and most Southern views over Barcelona, making it a great place to see the city far and wide – without travelling as far as other infamous landmarks or lookout areas.
It is also one of the only areas you are able to fully appreciate Montjuïc's beauty and how much the area is home to, whilst being able to remain so peaceful and natural appealing. The Castle provides a rare glimpse of Barcelona's fully functioning and industrial port from land. Although very central, the port is often out of sight from much of the city whilst this isn't the most beautiful of views it does remind you that Barcelona is an industrial city like many others!
Gardens and parks
Montjuïc is covered in parks and gardens, some of which are free to explore and all offer a wide variety of plants.
 From the Montjuïc cactus garden to the Botanical gardens, as well as smaller parks for afternoon stroll and a couple of play areas for children. With tonnes of nature to immerse in each park or garden has unique focal point. Many of the parks boast a variety of native and non-native plant species and floristry, in addition to glimpses of the city from the higher vantage points. Spring and early summer are the best time to enjoy the gardens and parks, as this is the best time to see the plants' beautiful blossoming and flowers flourishing.
Cable cars and Olympic stadium
From the Paral-lel metro the funicular goes straight to the cable cars or you can walk. The cable car ride lasts around 10 minutes with return tickets costing 12euro, but more frequently people purchase a single ticket (8euro) and then walk back down the mountain.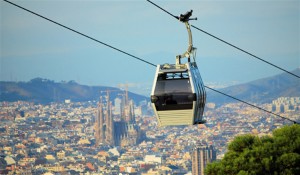 The cable cars stop at the top of the mountain right beside the Castle so provide similar stunning views of the city, both during the journey and at the top. Close to the cable cars is the 1992 Barcelona Olympic Stadium, which is visible from the road and still in use for some sports matches and practice. It is possible to look over the former Olympic arena and imagine what it was like during the 1992 games, and has an Olympic and sporting museum next door. The Olympic swimming pool (also on the mountainside) is open for public use in the summer.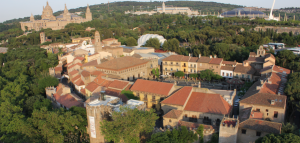 Poble Espanyol
The hidden and picturesque Spanish village, Poble Espanyol, is nestled on Montjuïc's north side. Far from the bustle of busy centre it a beautiful replica of a traditional Spanish village, giving visitors an insight into the history of the Spanish way of life and their communities. With stunning architecture it is easy to spend an afternoon exploring the shops, restaurants, parks and more in this secluded area.
Other museums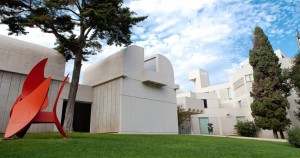 Montjuïc also boasts several other museums on its hillside, each with a very different topic and focus from art to sport to military history. The Joan Miró Foundation (Fundació Joan Miró) celebrates the artwork of the late, contemporary, surrealist artist, Joan Miró, who was a Spanish painter, sculptor and ceramicist born in Barcelona.
Next to the Olympic Stadium is the Olympic and Sports Museum (Olympic and Sports Museum Joan Antoni Samaranch). Filled with the sporting history, stimulators and interaction activities it is great for any sports enthusiasts and fanatics. As well as the history and achievements in a wide variety of sports internationally, nationally and locally, the museum also looks at the science behind individuals' success.
Eating out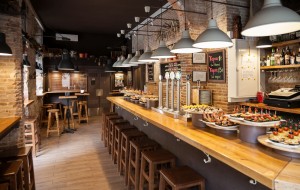 Pintxos on Carrer de Blai
Carrer de Blai runs for almost 500m from Paral-lel to Poble Sec metro stops, and from almost top to bottom it has door-to-door pintxos bars. Pintxos are little tapa served on a bread with cocktail stick and originally from the Basque region but have spread over Northern Spain. They have become very popular in the Catalan capital with locals and tourists. Reasonably priced (1euro usually, up to 2euro) they are small little dishes that can be eaten as a quick bite or lunch and dinner with a wide variety of options and toppings in every single bar, as sociable and vast as tapas but without having to share! The drinks are equally cheap so it's a great choice to have some authenticity ï ïand variation without breaking the budget. All pintxos are on the bar, ready to order so it's easy to see before you try. The central walkway on Carrer de Blai is pedestrationised and so nearly every bar has a terrace, perfect to soak up the sun with a beer and some pintxos.
Quimet y Quimet
Tucked along Carrer del Poeta Cabanyes (jut off Carrer de Blai) is the highly popular tapas and wine bar Quimet y Quimet.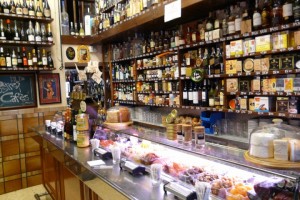 The place is very small and like any good wine cellar, absolutely covered with differing wines from the reasonably priced to the super expensive. Despite its surprisingly small size prices are very competitive, which is why the traditional family bar has been so successful and a favourite for four generations. To accompany the vast variety of wine is a selection of traditional pintxos. All dishes are very Spanish and there is nothing pretentious or fancy about them, expect canned and tinned fish! But this makes the place feel very genuine; especially with the family still running the often crammed bar, it is a truly authentic experience.
Address: Carrer del Poeta Cabanyes, 25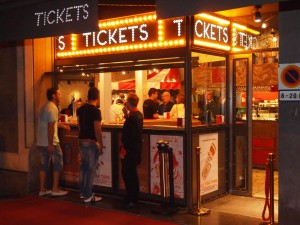 Ticket Bar
One of the most established and sort after seats in town is at Ticket Bar for its amazing quality of food, service and ambience. Theatrical, fun and delicious, the tapas are more than just food as the chefs transform classical and original flavours into works of art. Regularly fully booked it is essential to book online or call in advance. Ticket Bar has several sister restaurants, which are less publicised and known so it is always worth looking at their availability too.
Address: Avinguda del Paraŀlel, 164
El Sortidor
El Sortidor has been open for over 100 years (since 1908) and is a favourite of the local neighbourhood. It is very well preserved and unchanged, managing to maintain its original character. It's a great place to stop for some authentic Spanish and Catalan food and atmosphere. As it is still a local favourite and continues to have a traditional style, food prices are very reasonable and good value.
Address: Plaza del Sortidor, 5
Getting to the Montjuïc area: take the L1 (red) or L3 (green) to Placa Espanya, or the L2 (purple) or L3 to Paral-lel and either get the funicular/bus or walk up from the otherside.