El Born is one of the most popular neighbourhoods in Barcelona, and is lined with captivating streets, unique shops, and a charming ambience. It is tucked away from the hustle and bustle of La Rambla, which which can be too busy for some people.  El Born has plenty of popular high street shops, tasty tapas, and architecture as magnificent as that of the Gothic Quarter.  It also has a distinctly Medieval feel when you walk through its narrow streets.  This district's charm easily captivates it's visitors and locals alike.
One can spend hours walking around the Born neighbourhood, and here are five of our top places to check out when visiting this part of the city:
Picasso Museum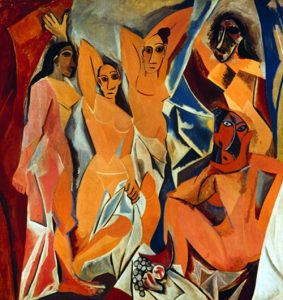 This world-famous museum honours the legendary Spanish artist, Pablo Picasso. It is located in the center of Born on Carrer De Montcada.  The museum attracts over a million visitors each year.  Tourists and art lovers travel hundreds of miles to visit, view the work of Picasso, and learn his story. Tickets are available online at 12€ and  entry on Thursday afternoon is free from 6:30pm.
La Fabrica
After walking around the picturesque streets or visiting the Picasso Museum, buy a snack at this Argentinian empanada shop. They offer 20 different types of savory pastries including options with meat, vegetarian, and vegan.  The best deal is two empanadas of your choice with a beverage at 5€.   One of the most popular pastries is the spicy criollo, which is a tasty sausage sautéed with onions and peppers. La Fabrica has a total of four locations throughout Barcelona and the one in Born is on Pl. De La Llana, 15.
Santa Caterina Market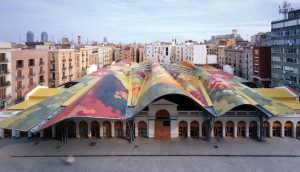 This fresh food market has a distinct coloured roof.  The building used to be a convent for the Sisters of Santa Caterina.  Santa Caterina Market is similar to La Boqueria, but not as busy and people argue that items are slightly cheaper.  The market sells quality produce, seafood, sweets, cheese, and of course, fresh jamon serrano.  The market is open from Monday to Saturday with various hours listed here.

Shops on Carrer De Carders
After filling your stomach up with the various foods Born has to offer, check out the unique shops on Carrer De Carders.  This street has a handful of shops with handmade items and designs distinct to Barcelona.  The mainstream clothing stores are still very close on Avinguda del Portal de l'Angel. However, shops like WaWa sell local trinkets and souvenirs.  Their items are special, since they are not sold at kiosks throughout the city.  When shopping on this street, you may see that many  artisanal items are exclusively made in Barcelona.
Basilica de Santa Maria Del Mar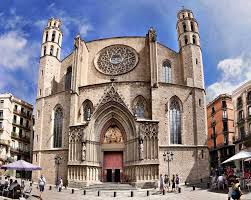 A beautiful, Gothic style church built in the 1300's and a must-see when strolling around the streets of Born.  Its interior is as stunning as it is elegant. The basilica has gone through extreme physical destruction such as an eleven day fire in 1936.  It has been carefully restored and it is an achievement that it still stands today. Guided tours including a walk to the top of the basilica are available for 8€  here.
The neighbourhood can easily be reached by metro, and the nearest stop is Jaume I on Line 4.  There is so much to see, taste, and hear in the Born neighbourhood, and hopefully these suggestions will get your day started on the right foot.