Upcoming Events
Events List Navigation
December 2015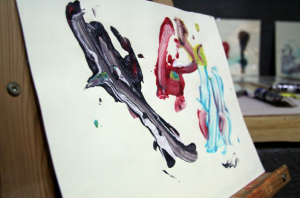 Possibly the most fascinating and obscure exhibition Barcelona has ever seen! Wild Portrait is a tourist art-science exhibition co-produced by La Mandarina de Newton and Fundació MONA, with the support of Barcelona City Council. Chimpanzees are given brushes, paints and paper to create Wild Portrait paintings during their various moments of spontaneity.
This enrichment project questions what is aesthetics and creativity? Is it something unique to humans? Or can these terms also be applied to other animals? Do other animals perceive their surroundings in the same way humans do? This exhibition intends to stimulate reflection on these, and several other questions, and invites you to explore the character and life stories of the chimpanzees through their artwork.
Throughout the exhibition period, a series of talks and discussion sessions will be held to promote reflection and debate around the topic of aesthetics in nonhuman primates. These will be lead by different researchers and experts from the MONA Foundation.
A Trip to the Primates' World: Iván García, PhD student in primatology, Durham University, and member of the board of directors of the Spanish Primatological Association (APE). January 2016 – Thursday, January 28, at 7pm
Social learning in chimpanzees and the evolution of culture: Dr. David Riba, associate researcher at the Catalan Institute of Human Paleoecology and Social Evolution (IPHES) and MONA Foundation. February 2016
Sister minds: emotional apes and rational humans: Dr. Miquel Llorente, principal investigator and head of the Research and Ethology Unit of MONA Foundation and president of the Spanish Primatological Association (APE). March 2016
Aesthetics in primates (humans and nonhumans): Daniela D'amore, Master student at Primatology and Ethology Research Unit of MONA Foundation and University of Molise. April 2016
During this period, Wild Portrait will be open to the public for free. Visitors will also have the chance to take home originals and copies of the chimpanzees paintings.
Find out more »
January 2016
September 2016
November 2016
December 2016
February 2017
March 2017
+ Export Listed Events