javhide.com
https://javplays.com

Upcoming Events
Events List Navigation
June 2018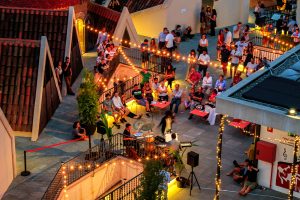 Casa de les Punxes is a unique Modernist building  in the heart of Barcelona, constructed in 1905  by the prestigious architect Josep Puig i Cadafalch (1687-1956). Myth and history are seamlessly woven together with daily visits that tell a fascinating narrative through multimedia video and animation, as well as the visceral experience evoked by the building itself.
The terrace comes to life in the summer evenings, with a special program of Nights with Rhythm every Friday from the 22nd June – 31st August.
Guests are invited to explore the exhibition area on the first floor from 19:00- 20:00, to discover the history and symbolism of one of the most emblematic Modernist houses in Catalonia.
A complimentary glass of cava is offered, and concerts take place from 21:00 with talented jazz, swing, bossanova and soul musicians.
JUNE
❖ 22.06 Special Opening - Scaramouche (Swing, Gypsy Jazz)
❖ 29.06 Zazu (Jazz, Swing)
JULY
❖ 06.07 André Marchiori (Brazilian Jazz)
❖ 13.07 TindndJoe (Soul)
❖ 20.07 Scaramouche (Swing, Gypsy Jazz)
❖ 27.07 Heart&Soul (Soul)
AUGUST
❖ 03.08 Casi el mejor trio de tu vida (Swing)
❖ 10.08 Marcelo (Bossanova)
❖ 17.08 Heart&Soul (Soul)
❖ 24.08 Salt and Soul (Jazz, Soul)
❖ 31.08 Casi el mejor trio de tu vida (Swing)
Find out more »
September 2018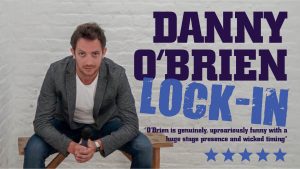 After a little comedy hiatus this year, Guiriness Comedy Barcelona is back full steam in September, with one of their favourite young Irish comedians; Danny O'Brien.
Award-winning O'Brien performs relentlessly across the globe, capturing audiences with his hilarious anecdotal style. Until now the highlight of his year has been as warm-up for Bill Burr in Dublin. After a string of sold-out comedy shows at Edinburgh Fringe he'll be flown over to rock the house with laughter with his fresh and feisty 2018 performance "Lock-in":
Danny O' Brien went to prison. Three times to perform. Once again by accident.
Danny is here for two performances: The monthly Friday night show in Shamrock Barcelona, then a Saturday night show in Wylie Brewery (Sitges). Both have excellent beers on tap, so head down for belly laughs in Barcelona or Sitges in stitches!
*Friday 7th September Show* Shamrock Bar Barcelona- C/Tallers 72 (Metro Universitat).
-Doors 20.30h. Show 21.30h. This is normally a full house event so please come early on the night for seats. Late-comers may be standing room only.
-There are a limited number of earlybird tickets online (10€). After that it's pay-at-door (12€).
*Can't make it to Friday's Show? Then come down to the Sitges show on Saturday 8th September. If you're coming in from Barcelona, there's a Monbus back from Sitges at 23.52h.
Find out more »
+ Export Listed Events