javhide.com
https://javplays.com

Upcoming Events
Events List Navigation
April 2020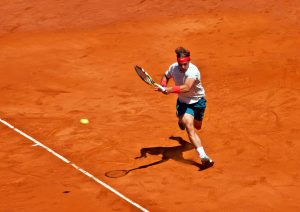 If you are a lover of tennis or just of Rafael Nadal then you will love the Barcelona Open Banc Sabadell at the Real Club de Tennis. Spend the day at one of the most prestigious clay court tournaments on the circuit and watch the best tennis players go head to head!
Ticket sales range from 9-90 euros depending on the match or you can get a season package for 280 euros which includes all 9 days of the tournament. Premium seats are also available for purchase and feature several benefits over the standard ticket. The VIP clay prestige seats are situated on the court's baseline. These seats are also accompanied by access to the VIP Village, free buffet, a welcome drink in the lounge, parking and transport from a nearby hotel, and free merchandise in the form of a welcome package.
The Barcelona Open Banc Sabadell is not only about tennis. It is also a unique social experience. With 4,000 people enjoying the VIP Village a day it has become aparty you do not want to miss. Aside from the VIP experience there are also activities and booths on Fan Boulevard. Between the tennis, the village and the boulevard you never run out of things to do.
After the Madrid Open this tournament is Spain's most important Tennis event. It is truly a special experience whether you are a tennis fan or not. With Rafael Nadal holding 11 singles title wins he brings in crowds every year of about 90,000 people.
The Barcelona Open this spring will be an extra exciting year because 4 of the best players in the world have confirmed their participation. With Rafael Nadal, Daniile Medvedev, Dominic Thiem, and Roberto Bautista battling it out for the Barcelona Open victory it is sure to be an exciting tournament.
Find out more »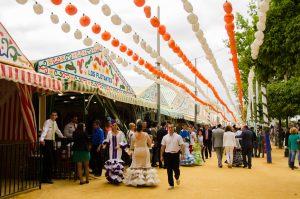 The month of April welcomes Spring with blue skies, the warm sun, and Barcelona feria de Abril or the April Fair. This traditional Andalusian festival provides us with 10 days of festivities to enjoy.
This fair starts after Easter at Parc del Forum and contains two different sections. One section is filled with booths set up by companies who organize different events for visitors which are all related to Andalusian traditions or culture. The second section is more popular for those going to the fair with families or loved ones. This section includes more traditional fair attractions.
It is easy to Immerse yourself in the Andalusian culture at this fair. The air is filled with the smells of Andalucian food and filled with women wearing traditional Andalusian dress. You may forget for a moment that you are still in Barcelona and not the city of Seville.
Andalusians started this fair in Barcelona in 1971 because they wanted their own version of the fair that takes place in Seville. It has now grown to become the second largest Spring fair in the city of Barcelona.
This fair is the perfect place for families to enjoy the attractions such as the ferris wheel and various activities, but it is also a great event for students as well. You will find several concerts going on throughout the festival in booths or tents that attract people of all ages.
Sit back and sip on a Rebujito. This traditional Andalusian cocktail is made with sherry and soft drinks and is a must try at this event.
You can also try out or participate in some exciting activities. Learn the traditional Andalusian dances by taking a class. Another option is to enter a competition. Set up a booth at the fair or try cooking a dish for the chance to win prizes!
Find out more »
+ Export Listed Events