Whether you're an athletic international student living on a tight budget or a thrifty tourist seeking to work off all those mouthwatering tapas, we understand that staying fit in Barcelona can be quite difficult when your funds aren't able to support your fitness goals. Staying in shape and healthy while abroad isn't easy, but we have the tips on how to balance adventure with your wellness and budget so that you don't have to compromise your health. If you're ready to commit to a healthy regimen while saving yourself some cash, we have the essential guide for you on How to Workout for Free in Barcelona.
Join Free Group Workout Meetups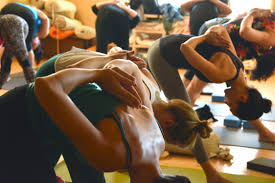 If you're the type of individual who needs to be surrounded by fitness enthusiasts in order to be motivated to workout, there are plenty of fun and challenging group workouts for FREE to keep you aligned with your health goals. By downloading the MeetUp App on your phone, you'll have access to a variety of free fitness classes with expert coaches, ranging from acroyoga to Thai boxing and to the intense 24FIT Camp. Not only will you never get bored of having to do the same exercise routine, but you'll also find new workout buddies to stay in shape with too.
Enjoy a Run Through Beautiful Barcelona
With numerous gorgeous beaches, stunning architecture and abundant green spaces scattered around Barcelona, we can assure you that you can't go wrong with finding multiple locations to indulge in your needed cardio run. Take a jog through Parc Montjuic where the epic 1992 summer Olympics game was held and where you'll find various running routes leading to the 173-metre peak overlooking all of Barcelona. Or run down the Barceloneta Beach Boardwalk, Paseo Maritimo, where you can witness one of the most beautiful sunsets or sunrises imaginable. Whatever your case, you'll be sure to discover incredible landmarks jogging around Barcelona and become a disciplined runner in no time.
Pump in a Fun Workout at Barceloneta Beach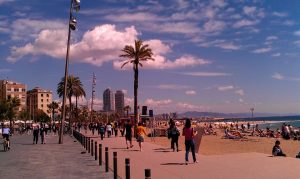 Even though it can be tempting to simply lounge out on the sand once you're at Barceloneta Beach, we can assure you that there's plenty of other exciting activities to do that can keep you fit while still getting that tan. With summer just right around the corner, you'll find the beaches lined up with many volleyball games to join in on this competitive sport while getting in a good exercise. If you're looking to tone up those muscles through an intense calisthenics workout, use Barceloneta's Street Workout Park where you'll find a wide range of bars and equipment to choose from. Or if you're looking for a mellow workout that allows you to soak in the beautiful scenery of the beach, you also have the option to go rollerblading, surfing, cycling, or swimming too!
Take an Adventurous Climb Through La Foixarda
If you're a lover of rock climbing or if you're daring enough to try a new exercise routine, enjoy a free climb at the La Foixarda Climbing Tunnel where you'll find climbing holds affixed throughout the concrete tunnel walls. Offering rope climbing and bouldering in a hidden, beautiful location of Barcelona, you climb at your own risk without a harness, rope, or climbing shoes, but don't be alarmed, you still have the option to rent gear from Belmat to give you that extra precaution!
Making an effort to stay healthy and economically efficient while living in Barcelona will greatly improve your time here by making you feel more energetic, productive, and by allowing you to use those saved funds to try new things! No matter what level of fitness you identify as, you'll be sure to find a healthy exercise regime that fits you best from Barcelona's great range of outdoor fitness activities. Now that you'll save money by working out for free in Barcelona and know how to get the summer body you've been craving, treat yourself to some guilt-free, heavenly tapas because you do deserve it.