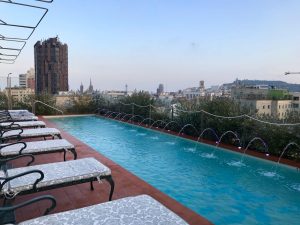 Few other places in the Catalan capital can summon an atmosphere of unparalleled style, sophistication and elegance like El Palace Barcelona. This luxurious hotel still retains the same professionalism, exceptional standards and dazzling opulence as it did almost one hundred years ago, when it first opened its doors to Barcelona's wealthiest patrons. More recently, El Palace has welcomed the likes of Pierce Brosnan, Catherine Zeta Jones and Enrique Iglesias, which comes as no surprise thanks to its exclusive facilities, and not to mention remarkable dining areas.
As part of El Palace's comprehensive refurbishment last year, the beautiful Diana Garden was born. Nestled away on the seventh floor, this heavenly garden, restaurant and pool area perfectly captures the neoclassical style and beauty that El Palace is famed for. This majestic, al fresco space boasts a myriad of plants, fountains and pergolas and furthermore, a terrace offering a 360-degree panoramic view of the Barcelona skyline. From the iconic Sagrada Família to Mount Tibidabo, it is the idyllic spot for a pre or post dinner cocktail, as you overlook the city's magnificent sights.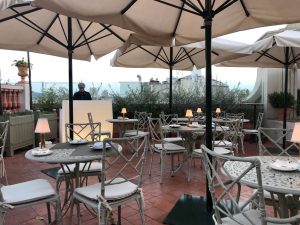 El Palace's Winter Garden restaurant prides itself on its exquisite range of signature tapas dishes and unmirrored Mediterranean flavours. Chef Marc Mallasen has devised a seasonal menu to allow guests to sample Catalan dishes with a contemporary  and innovative twist, in order to please an international palate. From traditional staples including patatas bravas, homemade croquettes and lobster paella, their menu also spans a selection of cosmopolitan gastronomic delights. Their sea bass ceviche with a revitalising citrus zing is a beloved favourite of ours, as is their melt-in-the-mouth rack of lamb with romesco sauce – a typical Catalan blend of roasted red peppers and almonds.
Whilst you can expect to pay higher tier prices at El Palace's Winter Garden, they guarantee breathtaking scenery, both of and from their lush rooftop garden, and a truly unforgettable experience. Its exceptional location amongst Barcelona's most prestigious boutique stores and Modernista architecture makes it a flawless choice for a place to unwind after an exhausting day of sightseeing and shopping.