What's the only thing better than a rooftop party? A rooftop party with a pool of course, and the pool at Hotel Catalonia Barcelona Plaza's Clock Terrace is both huge and beautiful. Alas, none of the guests took the plunge at the hotel's summer 2017 opening party on the 14th June, but there was plenty of other entertainment to keep everyone occupied.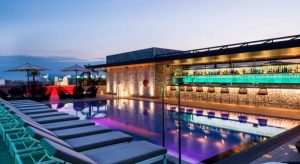 Most striking were the three stunning singers of Scarlets & The Femme Soul Band who covered RnB, soul and pop from the early 2000s throughout the evening. Their energy and passion permeated the event and created an upbeat and classy vibe. Partially, this may have been because the singers were not raised on a platform or hidden in a separate VIP area, but were instead at the same level as the majority of the guests, creating a far more inclusive experience.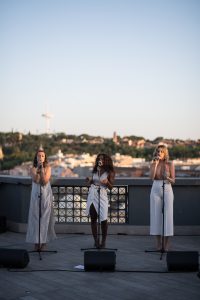 Whilst being serenaded by the enchanting trio, guests were free to appreciate the gastronomic samples, including barbecued food and tapas inspired by Japanese cuisine. A broad selection of sushi was available on a self-service basis at a table where chefs could be observed hand-preparing the various types of maki and nigiri. Also constantly on offer were successive and eclectic rounds of nibbles. These varied from Iberian jamón, to breaded cheese bites, to mini hamburgers. As the evening drew to a close, desserts were served including chocolate mousse and fruit, ensuring it was possible to graze continually from start to finish.
Of course, no party is complete without copious amounts of alcohol and Hotel Catalonia Barcelona Plaza did not disappoint on this front. As guests arrived they were treated to either a white or red sparkling wine which proved to be just the warm-up. Besides the pool is a long bar which provided beer, wine and even champagne all evening (yet even this encouragement was not enough to prompt anyone to cannonball the pool). In addition, a separate bar was reserved exclusively for cocktails and gin and tonics, which were well worth the lengthy process it required to make them as they were prepared by skilled and expert bartenders.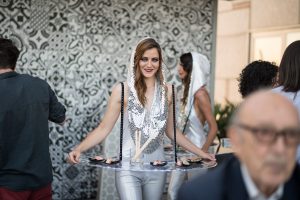 But, without a doubt, the most unique and memorable aspect of the Clock Terrace's opening pool party was the incredible elevated setting. Virtually all the city's iconic landmarks can be observed from the venue and as night falls, the buildings are illuminated creating a wholly new spectacle. Obviously, the vantage point is great for snapping Plaça d'Espanya in general, but the perfectly clear view of the Museu Nacional d'Art de Catalunya and its fountain show is unrivalled in Barcelona. Behind this, Montjuïc looms majestic and imposing, dividing the skyline with its wooded peak. There are many great views in Barcelona but the 700m2 terrace on top of this hotel provides a rare panoramic of the urban landscape which was the perfect backdrop for such an elegant and lavish event.
http://en.cataloniabcnplaza.com/
Plaza España, 6-8,
08014