Most people seeking a brunch venue are looking for three things: expertly prepared quality food, an original and varied menu and an amazing location in which to enjoy it. La Esquina delivers on all of these aspects with a rare and special charm. Everything you devour in their charismatic Eixample restaurant is made from locally sourced ingredients and presented with artistic flourish, making it a top pick for locals and tourists alike.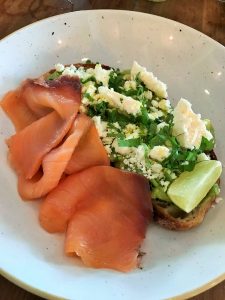 The brunch menu at La Esquina is divided into snacks, plates and sweet things. Across these categories is an impressive array of options for a small-medium cafe. Find your typical international brunch favourites such as eggs benedict, eggs royale and homemade jam on toast – all of which can be ordered with irresistible extras such as salmon, bacon and avocado. What's more, a Spanish influence makes its presence known with snacks like Iberian ham, croquetas of the day and mixed olives. As a result, whether you're looking for a reminder of home or a Mediterranean inspired breakfast, you will find the perfect combination at La Esquina.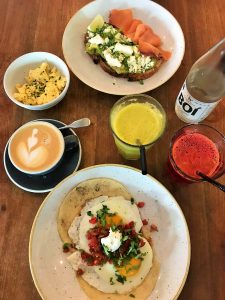 La Esquina is also noteworthy for their rich authentic coffee. Adroitly prepared using their state of the art machine, the Marzocco, each cup brings a fresh taste of Nicaragua coffee bean plantations with it. In this and so many other regards, La Esquina trumps their neighbour Starbucks, and you will find yourself questioning the sanity of those who choose an international brand over artisanal excellence. Alternatively, various refreshing beverages consisting of combinations of seasonal fruits and vegetables offer a super healthy way to start your day of sightseeing.
In addition to the wholesome main dishes and snacks, La Esquina's kitchen produces a selection of homemade cakes and desserts. Whilst an apple and blackberry crumble may not be your usual morning fare, when you see the hot vanilla custard being poured you may rapidly amend your definition of breakfast food! Like everything else at this original eatery, the sweet treats are 100% artisanal and the superiority of taste as a result is instantly recognisable.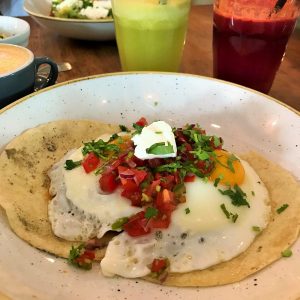 Enterprises like La Esquina, which are committed to stocking local produce, creating healthy dishes and experimenting with novel recipes, quickly become popular with Barcelona's residents and visitors. They simply tick all the boxes when looking for a memorable holiday meal or special weekend treat. That's why we recommend you head to La Esquina and experience for yourself one of the Barcelona's brunch scene gems.