Every year, just as you feel you have made it through January, February creeps up. The date February the 14th is a special date, one that brings joy and glee to some, or horror and disgust to others. Warning: this is not for the latter. Below you will find suggestions to make Valentine's Day a special event for you and your significant other.
Start the day as you mean to go on (with a good brunch)
UGOT Bruncherie – for the wonderfull staff, for the exposed brick interior, for the delicious food. Need we go on? This place is an absolute find and it's opening hours are on the unique side, making this location ideal if you and your Valetine have to rush off to work after looking into each others' eyes over a muffin and a flat white.
During the day
Have a picnic in Park Güell. Okay, maybe check the weather forecast before planning this one. However, if fait has it and the sun comes out, Park Güell us one of the most romantic spots in Barcelona. With good views of the city, wonderful architecture by Gaudí, and plenty of nooks and crannies where you can sneak a kiss or two, this is a no-brainer. If you are extra organised, bring a picnic basket and sit at one of the benches in the space (in the free area of the park if you are watching your spending). Bottle of bubbly anyone?
Address: Carrer d'Olot.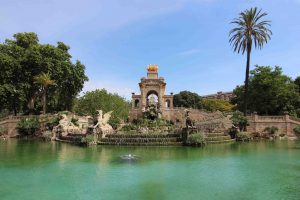 Park de la Ciutadella – have a stroll and a coffee in this charming park. The fountain and lake designed by Fontseré is the centrepiece of this space, dubbed Barcelona's "green lung" by the tourism board. This is a great place to walk around hand-in-hand, and with the Arc de Triomf a stone's throw, this is the perfect itinerary if you love a little stroll.
Address: Passeig de Picasso 21.
Go to a show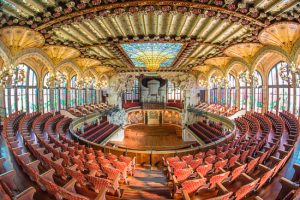 The Palau de la Música Català is one of the most beautiful buildings in Barcelona. With high ceilings and an embellished interior, this is a must-see, and a romantic one at that. There are two performances on the 14th of February to boot. The main hall sees tenor Juan Diego Flórez take the stage. Tickets start at 25€, but you need to move fast! We are not the first to have thought of this date idea! Buy your tickets here.
Address: Carrer Palau de la Música 4-6.
Drinks
Cafè Babel – Possibly one of the smallest cafes in Barcelona, this is the very definition of private. The lack of online presence is the testimony that word of mouth and pure luck keeps this place alive. And what a discovery! The gin and tonic is perfection.
Address: Carrer del Correu Vell, 14.
Candle-lit dinner  
Benedict – Hidden in the narrow streets of the Gothic quarter (although also close enough to the metro so you won't have to drag your date around in the cold for too long), Benedict offers the perfect set-up for a romantic evening. With dim lighting and cosy decor, you can enjoy a cocktail at the bar before a delicious meal. They are also very good with catering to specific dietary requirements, so give them a call in advance and you are set for a wonderful evening. You're welcome.
Address: Gignás 23.
Meneghina – if you want to knock the socks off your date and impress, what could be better than sharing a plate of spaghetti à la Lady and the Tramp? And while the prices may actually mean you need to share your food, this restaurant is worth the hype. The interior is romantic and ethereal, and the food is "delizioso". Go on, treat yourself!
Address: Carrer dels Tiradors 2.