Trill has  been bringing the future sounds to Barcelona at the famous Razzmatazz for the last two years. From electronic to rap and dancehall to future funk, it's all covered at Trill's once or twice weekly sessions. Trill has hosted many DJs and artists including Mr. Carmack, TroyBoi, Baauer, STWO and Ryan Hemsworth. We spoke with Miquel Sanahuja, the man who runs the lively night.
You can't really find the music that is played at Trill anywhere else wouldn't you say?
Not really, there are some small places with some of the same kind of stuff but not really with a specific focus on this type of music. It's almost like a mix of hip-hop, RnB and Trap music with a lot of future type beats, and also with influences of dancehall grime. At the moment these types of genres are hitting hard, there's a lot of creativity. We try to promote international artists but also local artists at our events.
Some of the artists that have played here at Trill in the past are a lot bigger now.
Some of them are much bigger, yes. Usually we use the Red Room, which is small, only 200 capacity and we have troubles with some artists who have played before because they want to come back and play in a bigger room. We don't always have availability for the stage. When we do takeovers at the main stage though they are always really fun.
You've got some big events coming up, includi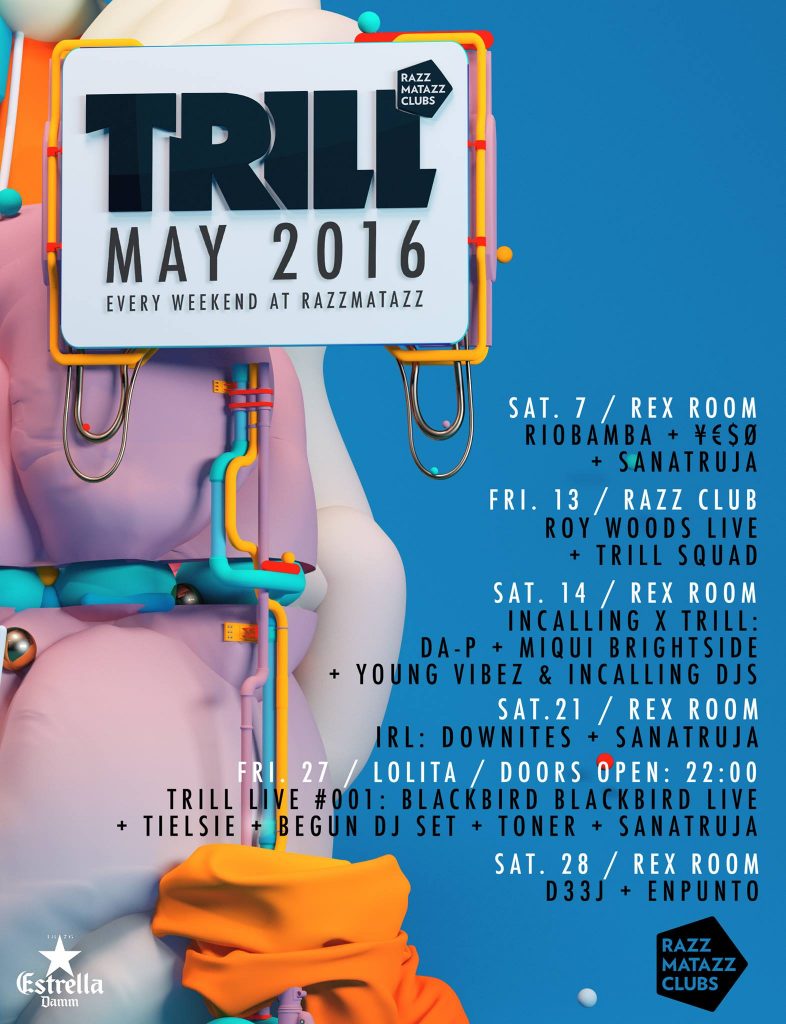 ng D33J, Da-p, and Blackbird Blackbird
Yeah, we have some great artists lined up for the rest of the month. We also have some surprises for the summer that we can't reveal yet. They will all be hosted on the main stage too, we are really excited to announce them. There is also the Sydney-based DJ Alison Wonderland booked for the 23rd of July, another set we are looking forward to. We are at Sónar festival too, on Saturday we are opening the LAX stage with our resident DJs and then we will be opening another stage too later in the day.
Looking back on the past 2 years, who stands out?
All of the takeovers at the main stage we have hosted for sure. Odessa stands out as well as all the Soulection DJs that we've hosted. We have brought the likes of Mr Carmack who has played twice and we hope to bring him again soon. There are other unofficial Soulection DJs that have played at our events. Their brand is based future music, similar to the music we try to play here. We have Da-P who is part of Soulection is playing on the 14th Of May.
Roy Woods of the OVO crew was also headlined to play on May 13th. Sadly for reasons unknown to us the RnB singer will now not be playing. Hopefully he can make the trip to Trill soon. Trill also finds creative artists every month to create the artwork for the events. You can check their Facebook page to see this.
Trill always brings a fun crowd full of music lovers to their shows. We're excited to see what there is for the future of the event. You can keep up to date with all of their new shows here.