El Jardi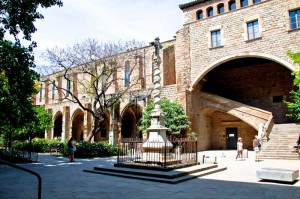 Carrer de l'Hospital, 56
El Jardi is a hidden gem in EL Raval as it is somewhere that you may only see if you happen to stumble upon its beauty on your walk through Raval. But the charming and quaint El Jardi is a picturesque destination to spend a sunny afternoon. Located in the open square of an old hospital El Jardi is a homely restaurant and bar, with inside and outside seating, where you can order tasty food or just grab a beer with friends. Not only is there a restaurant in the beautiful atrium there are plenty of outside seats to sit on, where you can bring your own food and relax in the summer sun, occasionally shaded by the gorgeous orange trees they have growing in the area. Upon your visit you'll find tranquillity amongst the locals and tourist alike just going about their business, relaxing in the beautiful square by reading a book, sketching, or just catching up with friends and family. It's a ten-minute walk from La Rambla and offers the perfect peaceful escape for an hour or even a whole afternoon.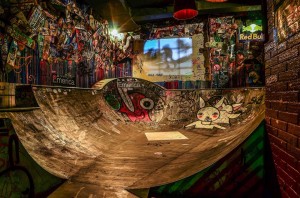 Nevermind Bar
Carrer dels Tallers, 68
Nevermind Bar is perhaps not that well known amongst tourist, and you only hear about it on the grapevine after a few months of living here. This well-hidden bar, is one of Raval's best kept secrets, hard rock and metal is there genre, but their unique selling point is the half pipe they have the back, where skaters can come and practice some tips and tricks in the destination that defines urban sport. Street Art and broken boards splatter the walls, providing the perfect hipster hang out. Just when you think Nevermind couldn't get any quirkier, with every purchase you are delightfully rewarded with a bowl of popcorn alongside your beverages. What more could you possibly want from this hidden gem in El Raval?
Grey Street
Peu de la Creu, 25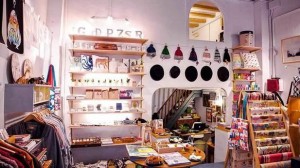 Grey Street epitomises the character El Raval has to offer, supporting its title as the funkiest district around.  At grey street you'll find a sea of beautiful and colourful stationary and coffee related products, what more could you want? Vintage paper, homemade pottery, Ask Alice notebooks, jewellery, magnets, photographs and many many more wonderful things to feast your eyes upon are in the magical Grey Store. Whether you are looking for a parting memoir of Barcelona, a gift for someone else, or you feel like treating yourself Grey Street is a must stop on your tour of hidden gems in Barcelona.