Since the 2016 opening of Assunta Madre on Barcelona's exclusive avenue, Passeig de Gràcia, Giovanni "Johnny" Micalusi has continued to prove his seafood prowess. Following years of success in the restaurant's birthplace, Rome, Micalusi decided to grace Milan, London and Barcelona with the presence of his oceanic dining hotspot. With their impeccably fresh Mediterranean produce and flavours, Assunta Madre has earnt a deservedly loyal and devoted following across Europe, and established one of Barcelona's premiere seafood eateries.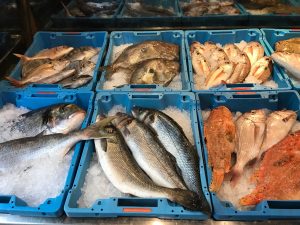 Once a fisherman by trade, Micalusi's combs the Mediterranean waters to devise a menu based on unembellished cooking and ingredients of superb quality. All seafood is imported daily, and exhibited in the restaurant's entrance showpiece. The impressive lobster tank and  extensive array of Assunta Madre's catch of the day acts as a pre-menu to tantalise your tastebuds before you enter their elegant, yet unassuming, dining room.
The restaurant's ability to prepare dishes rich in flavour, yet with with only a handful of ingredients, is unparalleled. Their starter of tuna tartar exemplifies this, with the delicately marinated tuna presented impeccably on a bed of chilled mash potato- an unusual but delicious counterpart. Assunta Madre's staple Orsini olive oil lightly surfaces the potato adding a splash of intensity, and superbly complements the palatable duo. Alternatively, their exquisite range of raw starters, including oysters and crayfish, offer a lighter option and will whet your appetite for the rest of your meal.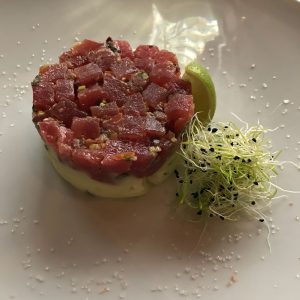 Assunta Madre's entrées are variably priced, and with their fish of the day at a modest nine euros, the notion of a two-course main is extremely appealing. Either way, ensure enough room remains for one of their iconic pasta dishes. An excellent pasta dish is obligatory for any self-respecting Italian restaurant, yet Assunta Madre's fresh, homemade pasta harmonized with heavenly nuances of seafood blows all other Italian coastal dining doldrums out of the water. Their gnochetti tossed with red shrimp, cherry tomato and pecorino comes highly recommended as does their tagliolini with seafood, served with a light buttery sauce, and seasoned to perfection.
Assunta Madre's virtuosity may lie in seafood, however that is not to undermine their indulgent desserts. For those seeking a taste of home, their delectably creamy, melt-in-your-mouth cheesecake topped with a tangy coulis and fresh berries is the ultimate treat to satiate a sweet tooth. That said, their quintessentially British apple pie gently oozes a warm filling, that equally does the trick and is perfect as a winter warmer. Otherwise, if you're seeking the complete Italian experience, Assunta Madre's irresistible tiramisu is truly unmissable with its espresso undertones, airy filling and finely grated chocolate topping. If space permits, we recommend trying one of their cannoli's, imbued with cream and glazed with dark chocolate, to transport you to Sicily as you enjoy your post-meal coffee.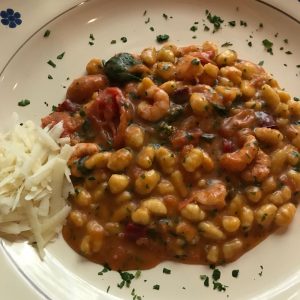 However, flawless dining must comprise excellent wine. Assuta Madre's wine cellar is home to some of the peninsula's finest wines, from an oak-aged crianza produced by Carmelo Rodero to one of Fendi Formilli Andrea's sublime bottles. To help you navigate the extensive wine menu, confer with the assisting staff who will be pleased to share their expertise and recommendations depending on your food preferences.
Whilst its clientele is largely formed by fashionable locals, Assunta Madre has previously welcomed the likes of Robert De Niro, Woody Allen and Quentin Tarantino. Therefore, to ensure a table amongst its trendy clientele it is advisable to book in advance.