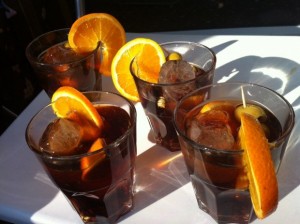 When one thinks of Vermouth, it is easier to think of James Bond like figures sipping it on the rocks in dimly-lit casinos, rather than picturing the more youthful population of Catalonia's capital. However, I'm happy to say that Vermouth, or Vermut as it is in Catalan, is having it's well-deserved come back. Barcelona is living a Vermouth renaissance; and everyone seems eager to be part of it.
Served on the rocks, with or without a splash of soda water, and garnished with some sort of citrus fruit, either lemon or orange, Vermouth looks the part. It is usually served alongside a salty food, for example anchovies, sardines, or olives, so makes the perfect mid-afternoon treat.
Catalonia is home to generations-old Vermouth, boasting a unique industry of their own. With  a pleasant 15% alcohol, the drink is fantastic value for money, with old values seeped deep in the rich Catalan tradition. The drink is made from white wine, distilled alcohol, sugar and herbs and the aromatic flavour is vibrant and unique, including herbs ranging from verbena, star anise, lemon balm and pomelo, to cardamon, nutmeg and chamomile.
Now that summer is around the corner, the prospect of a refreshing vermouth is more than just appealing… Here I've compiled a list of Barcelona's vermouth hot-spots and hidden gems:
Bodegueta Cal Pep 
On the corner of Sants Market, this cosy bar offers a delicious array of fish-based snacks and rich vermouth. Adapting to the modern times, it does well with it's delicious concoctions and fabulous drinks.
Canalejas, 12. Sants-Montjuïc.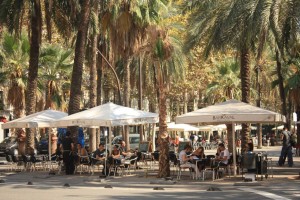 Colibri
Hidden in quirky Raval, this beautifully-decorated vintage looking bar is an ideal location for a few tapas and a sip of vermouth. Here you really do feel like you're in a Mediterranean city, with the intricate decor and fabulous array of food and drinks on offer.
Riera Alta, 33. Raval.
Bar Seco
This bar is proudly part of the slow-food movement, using local and sustainable produce to make their delectable dishes. The open air terrace boasts an amazing atmosphere and certainly one to be enjoyed in the summer months…
Passeig de Montjuïc, 74. Poble Sec.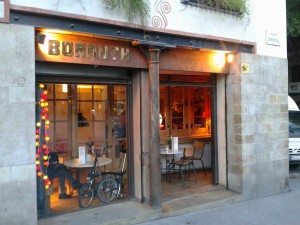 Bormuth
In the fabulously trendy El Born district, surrounded by all the quirky boutiques, cafés and cocktail bars,  and with a lovely view of Mercat del Born, Bormuth is the prime location for authentic Spanish tapas and drinks. The combination of Born + Vermouth = Bormuth, so the drink is in the name…
Plaça Comercial, 1. El Borne.
Quimet i Quimet
This tiny, bustling bar is full of classic Catalan specialities, from the food to the drinks. Get there early to avoid disappointment…
Poeta Cabanyes, 25. Poble Sec.
Gran Bodega Saltó
With a beautifully bohemian vibe, this bar is full of dedicated locals and vermouth drinkers, coming for an evening of live Latin music. Situated on one of the cities hottst bar-hopping, pincho-grabbing streets, this vibrant bar will leave you more than satisfied.
Carrer Blesa/ Carrer Blai, 36. Poble Sec.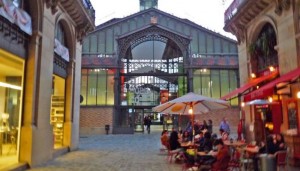 Bar Mingus
Located on a hidden street in the Barrio Gotico, Bar Mingus is authentic, unique and has a real local feel to it, one that is often hard to come by with the amount of tourists that often flock to the city. The food is divine, and the vast array of beer on tap is an added bonus.
Ataülf, 6. Gòtic.
Lolita
Serving deliciously delightful tapas and vermouth, the impressive Lolita situated in the depth of Eixample still offers the same excellence that it always has.
Tamarit, 104. Eixample Esquerre.
La Confitería 
A stone's throw away from Parallel Metro, this sweet shop turned bar is the perfect location for a sunny afternoon drink. Since its opening in 1912 the decor has been untouched, leaving a magnificent display of chandeliers, carpentry and interior design. A lovely place to enjoy yourself with exquisite nibbles and delicious drinks, well worth a visit…
Carrer de Sant Pau, 128. Raval.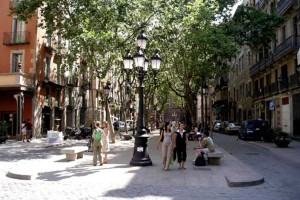 Bar Calders
One for the Pere Calders fans…. this beautiful cul-de-sac in Sant Antoni is the place to go. Offering books by the famous Catalan author, draught beer and tasty tapas, as well as their renowned vermouth, this bar has it all. The outdoor terrace is certainly one of the best places to spend those long Spanish evenings – a well kept secret in the depths of trendy Sant Antoni.
Parlament, 25. Sant Antoni.
Jai-Ca
Entering this bar it is quite hard to understand at first why this is one of the busiest and most popular bars in Barcelona, considering the sheer amount of noise and people. However, the tapas here are other-wordly, and the drinks divine…
Ginebra, 13. Barceloneta.
Senyor Vermut
Nestled in the heart of Eixample right next to Carrer Mallorca, this authentic tapas bar & restaurant is cosy and original, with great staff and cool music. In the search for a 5* Vermouth in Barcelona, this bar definitely comes highly recommended…
Carrer de Provença, 85. Eixample.
Morro Fi
A little off the beaten track, but well worth the visit… The homemade Vermouth here is incredible, and paired with the exquisite tapas selection, you will certainly leave feeling satisfied. The atmosphere is great, and the staff friendly and accommodating. Morro Fi comes highly recommended among the locals…  no better way to start off your evening in Barcelona!
Consell de cent, 171. Eixample.
And here are the top tips for drinking vermouth:
The time for vermouth is traditionally around midday, as a pre-lunch drink, but in reality Spaniards can be seen drinking it at all hours.
Never order Martini Vermouth – this is mass produced and doesn't have the same quality and authenticity as you get from the Vermut de la casa, which is the house vermouth.
If they don't offer Vermut de la casa, then go for the Vermut Yzaguirre, made in nearby Tarragona.
Order the red or black vermouth, rojo or negro… not white, blanco.
Remove the ice and don't ask for soda with it as this will weaken the original flavour…