The oh so quirky neighbourhood of El Raval is home to an abundance of vintage clothes shops, located mainly on Carrer de Tallers and Carrer de la Riera Baixa, but there are lots dotted around El Raval for you to wonder around. The shops offer clothes from all kinds of eras and its easy to find a great item at a very reasonable price, on Saturdays the shops spill out onto the streets making a market like feel. With so many to choose from, its difficult to know where to start, so here's our top 5 Vintage Clothes shops, each offering something special.
Holala!
Pza Castilla, 2, 08001
This is by far one of the biggest of the vintage shops in El Raval and has a huge array of bright colourful clothes mostly imported from the United States and France. With both a huge men's and woman's section there's plenty to feast your eyes upon. They always stock a huge selection of wind breakers, sweaters and men's shirt. As well as gorgeous sequin numbers and fab skirts in the woman's section. All the clothes at Holala! have been carefully selected and are in great condition which is perhaps reflected in the slightly expensive pricing in relation to the vintage world, however the prices are similar to normal high street shops and the quality is definitely guaranteed, so may be worth a few extra euros.

Dandelion 
Carrer Joaquin Costa 35, 08001
At Dandelion they try and ensure that most of their clothes are from Barcelona itself, as they believe its better to recycle things they find in this city rather than importing things from over the world. Some of their products are sourced from further afield around Spain or other places in Europe, but never off the continent. Prices are slightly more reasonable in comparison to Holala! and they offer a great range of both men's and woman's clothes. They always have a great selection of coats on show, from leather bombers to long womans evening coats.
Flamingo Vintage
Carrer de Ferlandina, 20, 08001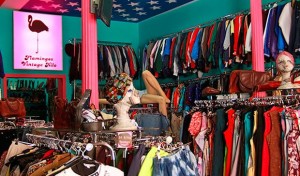 This is unique store and shopping experience for all things vintage as well as hand crafted individual items from individual vendors. Upstairs in Flamingo Vintage there are different shops, creatives and sellers in the front of the store, all selling their individual collection of products, from new jewellery to sparkly crop tops, sunglasses and evening dresses.
Then towards the back of Flamingo and downstairs, traditional style vintage clothes are crammed into this tiny space, no wall space is visible and only a little pathway winds its way around the treasure trove, filled with faux fur, camo jackets, vintage shoes and bags. The way you can buy these items is quite unique, the clothes are not priced in the traditional sense but whatever you want to buy is weighed and then priced per kilo which starts from just €13. But, be careful this way of pricing can sometimes mean you end up paying much more than expected, so try and weigh your things before you commit to buying them.
Lullaby
Carrer de la Riera Baixa 22

Lullaby exclusively offers real authentic vintage clothes from the 50s, 60s 70s and 80s, so if a serious throwback is really what your after Lullaby is the place to go. With an array of designer pieces and much cheaper items this shop has clothes which fit everyone's budget. Alongside the fantastic selection of clothes Lullaby also have a beautiful collection of accessories and jewellery.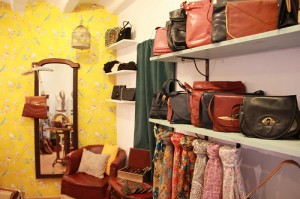 Galalith
Carrer de la Riera Baixa, 5

Galalith is a small, quaint little second-hand vintage shop with carefully selected one off pieces by the owner from her travels. Each item is beautiful and original with no sign of any mass produced or reworked vintage, this place really is a true vintage treasure trove. You can find everything from costume jewellery to original powder boxes and to add another wonderful angel to this vintage experience you can also buy jewellery hand crafted by the owner, Gabriella Soffer, herself!