Barcelona offers so much as a city and there abundance of markets definitely do not disappoint. There are regular markets throughout the week but the first weekend of every month brings even more markets to the table, and there is truly a market for everyone. Whether you want to rummage around the bits and bobs at the car boot style flea markets, sift through carefully selected re-worked vintage style clothes, or if just testing out some gastronomical goodness is more up your street then have a look at our top picks and spend your weekend wondering through the markets and you might find yourself a gem!
Clothes Markets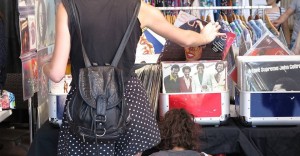 Flea Market Barcelona
Carrer del Portal de Santa Madrona
Metro: Drassanes
The first Sunday of the month, 11am-7pm
From 11am until 7pm you can browse the Fleadonia which truly is an Aladdin's, with lots of vendors who have enormous heaps of clothes. This market is not for the faint hearted and you must be prepared to get your hands dirty but its definitely worth it when you find the one piece you've been waiting for. If you're confident with bargaining, this is the perfect place to battle it out with the local sellers even though they may be a little hard to crack. Even if you can't drag the price down the good thing is most things are already pretty affordable.

Barcelona Vintage Market
Universitat de Barcelona, Gran Via con Balmes
Metro: Universitat
11am-6pm
In the surroundings of the beautiful University of Barcelona this market crams in lots of vendors, with mainly clothes on offer but occasionally with other second hand items up for grabs too. The market is on the first Sunday of every month, so is always crawling with shoppers. Slightly less chaotic then the Flea Market Barcelona, the things for sale here are carefully selected second hand, vintage and one off pieces for bargain prices. With music blaring out, this fun upbeat market is a great way to spend your weekend and a definite pit stop to visit on your market tours.

Flea Markets
Mercat dels Encants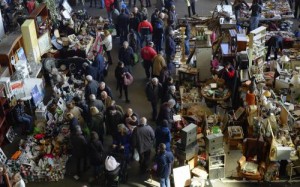 Calle Castillejos, 158, 08013 Barcelona
Metro: Glòries
Monday, Wednesday, Friday, Saturday 9am-8pm
One of the largest flea markets in Barcelona which has been around since the 14th century, everything you could imagine is sold at Els Encants. Both old and new, from house ornaments to power tools, there is A LOT of things to sift your way through. Like The Flea Market, Els Encants is not for the faint hearted, because of the sheer volume of stuff it may take you a while to unearth a real gem. Saturday is a busy day at the market, but if you arrive by 7:00am you'll witness the antique auctions for commercial buyers. A busy and hectic market, but a great authentic Barcelona experience, so definitely worth a look.
Fira De Nautumismo
Metro: Liceu
Sundays 10:00am-2:30pm
If a more relaxed little flea market experience is what you're after, Fira de Nautumismo is ideal. Set in the beautiful Plaça Reial, this not so typical flea market is a collector's paradise, with coins, stamps and books a plenty.
Food Markets
La Boqueria
Metro: Liceu
Monday-Saturday 8:00am-8:30pm
The infamous La Boqueria, bright and beautiful offers a great chance for some Instagram worthy pictures. But the shop owners spot the tourists a mile off and prices can be a little expensive if you don't speak the lingo. The juice bars dotted around however, have lots of tasty juices on offer for the perfect thirst quencher.
Mercat de Sant Antoni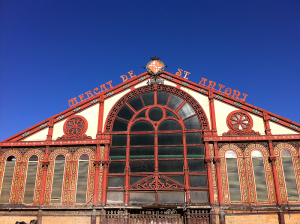 Metro: Sant Antoni
Monday-Tuesday 7am-2:30pm, 5:30-8:30pm
Friday, Saturday 7am-8:30pm
In a beautiful market hall, Sant Antoni food market is less touristy than the infamous La Boqueria but nevertheless still full of edible wonders, and if you want to experience a market like a local no other place is comparable. On Sundays the typical food market, turns into a second hand treasure trove, from vintage clothes to sports memorabilia. It's also the perfect place to sit and enjoy some Catalan dishes and a great vermouth, a classic Sunday morning in Barcelona

Mercat de Santa Caterina
Metro: Jaume I
Monday,Saturday and wednesday 7:30am-11:30pm
Tuesday, Thursday, Friday 7:30am-8:30pm
One of the most beautiful markets with its very colorful exterior and  located in the gothic quarter so easy to find when exploring the city. Housing everything from poultry to fresh vegetables it's the perfect place to pick up something for dinner or a quick snack as well as being a feast for your eyes, with the magnificent colors all the organic food has to offer. Open every day apart from Sunday it's a great place for a foodie.