A visit to one of the most luxury hotels in the Catalan capital should leave you feeling cosseted and poised. The chic and majestic Mandarin Oriental, located on the exclusive Passeig de Gràcia, does exactly that with their top-of-the-range facilities, debonair staff, and spectacular rooftop view that trumps most of its top-end rivals. However, it is their remarkable take on the traditional afternoon tea, held at their stylish Blanc restaurant by the multi-Michelin starred chef, Carme Ruscalleda, which sets this five-star paradise a cut above the rest.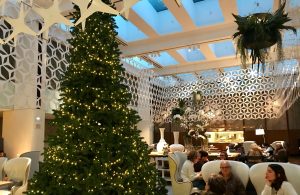 Every day, between 17:00 and 19:00, a selection of sweet and savoury pearls of exquisite delicacy are served at the hotel's elegant dining spot. Skilfully prepared by the brilliantly gifted Ruscalleda, her sheer talent is apparent in the supreme intricacy and finesse of her food; a virtue that the Mandarin Oriental pride themselves on. The carefully considered gastronomic offerings at Blanc range from meticulously presented homemade cakes to delicate sandwiches filled with the finest ingredients. Yet to enjoy your afternoon delight at its acme, the 'Full Afternoon' menu is highly recommended. One of their deliciously revitalising juices and a coffee or tea of your choice is the perfect appendage to your pick from their decadent cake trolley, presented by one of Blanc's charming waiters.
With the sophisticated and reposed ambience of Blanc, tea time at the Mandarin Oriental is a welcome escape, to temporarily retire from the frenetic city surroundings. Its opulence is something to be leisurely admired, with its beautifully white decor which the Mandarin Oriental claims to be as striking as the menu itself. Whilst their prices might not conform to Barcelona's conventional modesty, you can be assured that their sublime food, professional service and swanky interior will transport you to a culinary heaven, and leave you totally spellbound.
https://www.mandarinoriental.com/barcelona/passeig-de-gracia/fine-dining/bars/blanc