The phrase "Where should we go for tapas?", is probably one the most commonly asked questions in Barcelona, and one with hundreds of different answers. But, when you find yourself in El Born wondering where to eat (as every visitor to the Catalan capital inevitably does), head to Tapeo for traditional and exceptional Spanish cuisine.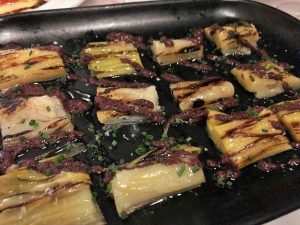 Located on the pedestrianised Carrer de Montcada, home of the iconic Picasso museum, Tapeo is extremely popular with tourists searching for an authentic dining experience. The restaurant has two seating areas; the first a long bar where you can dine like a true local, conversing with the staff as you eat; the other a quieter dining room where larger groups can enjoy themselves more comfortably. Pictures of the market stalls from which Tapeo source their ingredients adorn the walls, along with a large chalkboard displaying the daily specials. The atmosphere is informal, friendly and somewhat chaotic – all of which adds to the Catalan tapas bar vibe.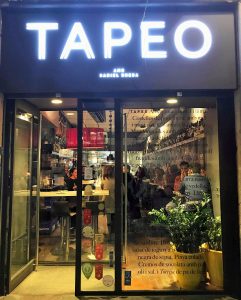 Tapeo's varied menu includes signature dishes that may seem a little exotic for those unfamiliar with Barcelona's traditional fare. The black Catalan cuttlefish fideuà sounds a little intimidating, but rest assured, it is a favourite with tourists who appreciate the contrast between the light garlic alioli and the flavoursome squid ink that gives this unique pasta its distinct colour. Another tapas dish that amazes those who try it for the first time is the glazed beef cheek stew. A surprisingly simple recipe, the beef is served with pureed potato after being cooked for a full two-hours in its own sauce – simply unmissable.
On the other hand, most people will be well acquainted with a significant portion of Tapeo's menu, due to the international popularity of Spanish cuisine. Irresistible offers include their ham croquettes, golden brown on the outside but bursting with creamy béchamel and cured jamón once bitten into. Alternatively, sample Tapeo's crunchy asparagus tempura with romesco sauce for a truly Catalan veggie starter. For those looking for a sweet treat to wrap up their visit, Tapeo offer a memorable Catalan cream foam with delicate citric hints, or try their innovative and coconut-infused, piña colada dessert.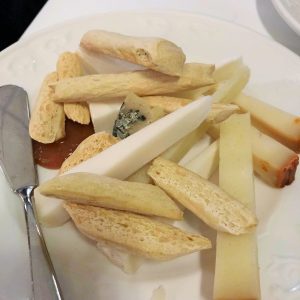 For those seeking a quintessentially Iberian gastronomic experience, Tapeo is a highly rated and well established choice in the very heart of the city. What's more, it is just a short stroll from the stunning Passeig del Born, the ideal place for a fruity post-meal cocktail.