Every holiday needs at least one extra special experience to make it unique and memorable. Most families struggle to come to an agreement on such things, but we guarantee that everyone will love Sailing Experience Barcelona 's sunset cruise. Not only will you be given the rare opportunity to see the sun set behind the city's beautiful skyline from the sea, but you can also choose to be serenaded by a skilled local guitarist at the same time. Treat yourself and your loved ones to the highlight of your holiday and book your place today!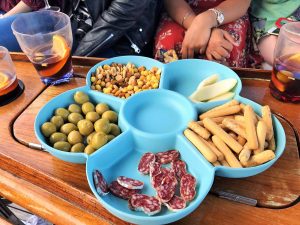 Meet your skipper at Port Vell, home to luxury yachts and pleasure boats from all over the Mediterranean, and board your own sleek ride for the evening. You can choose to share your experience with a group or have a more personal tour. Either way, the spacious deck and seating area allow you to spread out and move around. Snacks and drinks are provided and served by your skipper and include local favourites such as jamón, cheese, and nibbles, along with beer, wine and vermouth. Make sure to get your glass of bubbly ready for the inevitable photoshoot as you leave the city behind and enter the open waters of the Mediterranean.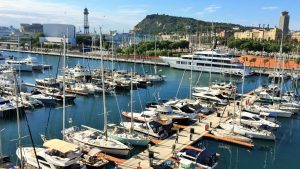 Once out of the harbour area, the skyline of Barcelona becomes fully visible and you can spot the iconic landmarks silhouetted by the sinking sun. As the last rays of sunlight reflect off the waves and paint the ship in shining white, it is the perfect moment to capture professional-looking photos. If you opt for the Spanish guitar option, your trip will be made even more idyllic with the gentle music as the only noise besides the peaceful lapping of the waves against the boat. Compared to the never ending hustle and bustle of the city centre, this tranquillity is a welcomed relief and truly a sublime experience.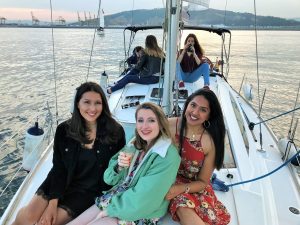 In total, the trip lasts around two hours, which is ample time to lounge on every inch of the boat's deck, enjoy several glasses of cava and take some Insta-worthy snaps. The sunset sailing experience is available 365 days of the year, taking full advantage of Barcelona's almost perpetually great weather. At the end of your cruise, you will be dropped off back in Port Vell, feeling refreshed and relaxed after your cathartic experience and ready for an evening out at the nearby Via Olímpic strip.