It was no doubt with some trepidation that the organisers of Summer Nights at La Pedrera watched a menacing bank of clouds roll towards the Casi Milà rooftop last Saturday. But, fortunately for organisers, band and audience alike, it remained dry throughout the evening and by 9:30pm, the sky was illuminated by an extraordinary sunset which served as a dramatic backdrop for the entire performance.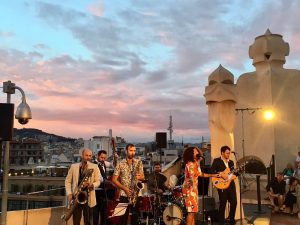 In a city bursting with spectacular views, Casi Milà (popularly known as La Pedrera "the stone quarry") still has a powerful ability to impress – and would have done so even without the spectacular dusk sky. This view offers a 360' panoramic of the city and it was breath-taking to stroll around the perimeter and take in the lofty heights of Tibidabou, the deep blue of the Mediterranean, and the sprawl of the city itself from such am unrivalled vantage point.
Nonetheless, the pièce de résistance of the evening was the live jazz performance by Barcelona-formed band, the Black Barbies. Fronted by the charismatic Desiree Diouf, the group dazzled with an impressive setlist which included classic jazz pieces alongside their own renditions of popular hits, adapted to incorporate elements of soul, funk, jazz, and blues. Whilst Desiree's voice was the centre of attention, every musician displayed considerable talent and managed to provide their own individual entertainment. For example, the evening was punctuated by captivating solos from the bassist, saxophonists, and guitarist who demonstrated exceptional adaptability in their abilities since they progressed from one genre to another with seamless ease.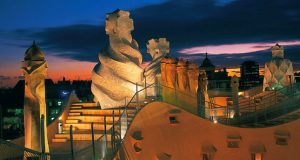 The unconventional layout of the Gaudí rooftop lent another layer of individuality and charm to the event since the audience were spread out over the steps and walkways surrounding the band. People can sit within a few feet of the musicians and enjoy the music in this informal, relaxed environment which was unlike any typical concert. Indeed, the contrast between the guests dressed in smart and elegant attire, sipping the complimentary cava, and the haphazard seating arrangement highlighted the uniqueness of the night and in some ways reflected the unconventional Gaudí architecture itself.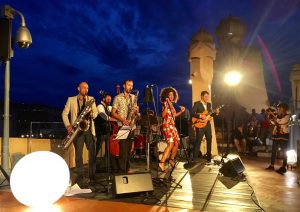 Besides the Black Barbies, the building itself was a form of entertainment in its own right. Before ascending to the rooftop, guests are treated to a visual tour of the ground floor of La Pedrera and are allowed a free visit to the Espai Gaudí –  an attic which combines intelligent design and visually appealing construction, 270 catenary arches holding up the rooftop above. On display here are scale models and plans of Gaudí's projects along with photographs and videos to educate the visitor on the great architects life and work.
Summer nights at La Perdera run every Friday and Saturday from 9 June to 9 September 2017.
https://www.lapedrera.com/en/exhibitions-and-activities/summer-nights-at-la-pedrera-2017