It's no secret that Barcelona is absolutely oozing with popular tourist destinations. From its beautiful weather and beaches, to its world renowned architecture, a trip around Barcelona never fails to produce some incredible Instagram uploads. However, for those who feel like going off the beaten track, we have comprised a list of some of our favourite not-so-popular places of interest around the city that promise to offer not only less crowds, but some fantastic experiences.
Refugi 307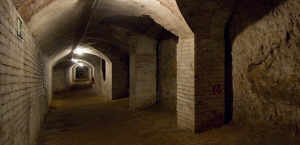 Step into shelter 307 and travel back in time to one of the most pivotal points in Barcelona's recent history. Built during the Spanish civil war which saw Barcelona become victim to severe random bombings by Franco's army, Shelter 307 is one of over 1,800 air raid shelters that were built underneath the city partly by the local government, but mainly by local citizens. Consisting of nearly 400 meters of tunnels which are just over 2 meters high and wide, with facilities such as a children's room and medical room, this shelter offers us an authentic representation of the realities of war and is a very moving experience.
Address: Nou de la Rambla, 175
Metro: Paral-lel
Opening Times: Monday to Saturday: only to Groups with prior reservation. Sunday – Guided Tours: 10:30am(English), 11:30am(Spanish), 12:30pm(Catalan)
http://museuhistoria.bcn.cat/en/node/661
Turó Park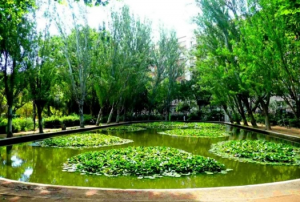 For a moment of peace in the hustle and bustle of the city, we recommend a visit to Turó Park. This hidden gem is nothing short of elegant, with its wide range of artistic and cultural influences. Some of its most notable features are its array of sculptures which give homage to various literary and musical artists, and a poetic route which offers you the opportunity to experience the park through the eyes of celebrated poets such as Sylvia Plath and Spain's very own, Frederico García Lorca. On top of this, its green spaces are bound to fill you with awe, with vegetation ranging from palm trees, to banana trees, to magnolias. This can all be admired as you sit by the large pond at the heart of the park, which is home to turtles, frogs and many different species of fish. We guarantee a trip to this park will leave you feeling a bit closer to nature, and even more in love with Barcelona.
Address: Avinguda de Pau Casals, 19
Metro: Muntaner
Montjuïc's Cactus Garden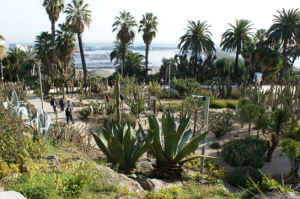 Never before have we appreciated cacti until we visited a garden full of them! Located on the east side of Montjuïc next to the sea, this provides a suitable microclimate for the garden as this spot is 2 degrees hotter than the surrounding area. This is what allows this garden to be home to over 800 different species of cacti, along with other succulent plants and subtropical trees. After a stroll around this 3.6 hectare garden, you'll be just as surprised as we were at the sheer range of cacti varieties and their various shapes, sizes and colours.
Once you're done admiring the wonders of some of the world's most succulent plants, you can sit back and enjoy the beautiful view of the port. If you still have a bit of adventure left in you, there are endless places of interest dotted around the hill such as the Joán Miro Foundation and Montjuïc Castle. For those wanting to cool off from the cactus garden's microclimate, we recommend you take a dip in Montjuïc's municipal pool(which was also the set for Kylie Minogue's single, 'Slow'!).
Address: Montjuïc
Metro: Espanya
The Ancient Synagogue of Barcelona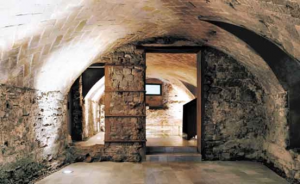 Believed by many to be Europe's oldest Synagogue, this hotpot stands in what once was Barcelona's Jewish quarter. There is still a lot of uncertainty about what the original use for this synagogue was, and when it was originally built, although architects believe that the original structure may have been built as early as the third century. This is an incredible testament to Barcelona's ability to maintain some of its old historical sights, as some of the original Roman walls still remain. There are two main periods in which adjustment to the synagogue occurred, the first being when King Jaume I lifted the law stating that no synagogue could be bigger than Barcelona's smallest church, and the second following the 5th August, 1391 which saw looting of the Jewish sector and the killing of many Jews. This forced many Jews to either flee or convert to Christianity and all of their possessions, including the synagogue, was handed over to the King. In 2002 the synagogue reopened as a museum and cultural centre following the discovery of this buildings' rich history in 1996 by historical researchers.
Nowadays this place of interest is open to the public for guided tours and other activities for as cheap as €2.50 a ticket. We definitely recommend that you take advantage of this cheap opportunity to gain knowledge about Barcelona's rich history.
Address: Carrer de Marlet, 5
Metro: Jaume I or Liceu
Opening Times: Summer – Weekdays: 10:30am – 6:30pm. Weekends: 10:30am – 2:30pm; Winter – Weekdays: 11am – 5:30pm. Weekends: 11am – 3pm.
http://www.calldebarcelona.org
Nova Mar Bella Beach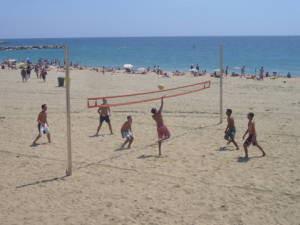 Once you have finished walking up and down Barcelona finding some of our favourite hidden hotspots, kick back and relax on one of Barcelona's quieter beaches, because a trip to this city isn't complete without a lie in the sun(and possibly a sun burn or two!). This beach was created during the redevelopment of the Barcelona seafront ahead of the 1992 Olympic Games, and has since then been characterised by its peacefulness due to the lower volumes of people who frequent the beach, making this the perfect place to unwind.
Address: Platja de la Nova Marbella
Metro: Selva de Mar and El Maresme