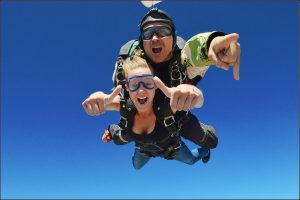 Do you believe you can fly? Do you believe you can touch the sky? Leave the metaphors on the ground, get into a plane and make it happen with an exhilarating skydiving experience during your stay in Barcelona. Whether this adrenaline rush of an extreme sport has always been on your must-do list, or whether a moment's spontaneity grabs you, take this opportunity and just do it!
Those flying for the first time will do a tandem jump with an experienced professional instructor who accompanies the descent. A small plane takes you and the crew up, and then it's time for a deep breath
and to make the leap. Even though the fall is at a speed of about 125km/hr, it's possible to breathe perfectly normally.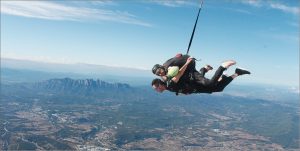 It takes about 12 minutes for the plane to reach a height of 3000m. The initial freefall lasts about 30 seconds before the parachute opens to catch the skydiver. Flying to 4000m means a longer freefall time of 60 seconds and about 4-6 minutes under the parachute before reaching the ground. Modern parachute technology has made landings quite smooth, like hopping off a step stool.
It's recommended that you wear comfortable clothes, everything else will be provided. If you
have glasses or contact lenses the goggles will keep them firmly in place.
Saltamos.es are located in the beautiful countryside near Manresa, and near the famous mountain of Montserrat, approximately 60km from Barcelona. So, what are you waiting for? Get ready to conquer a new corner of the unknown… or to revisit an experience which keeps calling you back for another whirl.
Saltamos.es | Tel 0034 93 014 0285 | Saltamos Village, Sant Fruitos de Bages